International Evening at The Marriott Hotel
Fri 8th April 2016 at 19.00 - 22.30
Our annual Dinner to raise money for charities. This year it is for Mercy Ships, with Chief Constable, Simon Edens as our guest speaker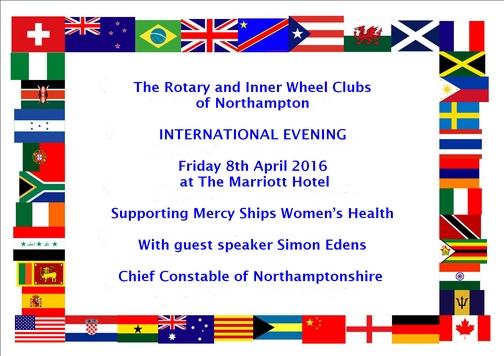 The Rotary and Inner Wheel Clubs of Northampton
INTERNATIONAL EVENING
Friday 8th April 2016
Supporting Mercy Ships Women's Health
With guest speaker Simon Edens, Chief Constable of Northamptonshire
Simon Edens became Chief Constable on the 27th July 2015, having served in five forces during a career spanning 34 years. Mr Edens' appointment was the result of a "rigorous assessment process". This included a Question Time-style event - said to be a first for UK police forces - where staff were able to grill the four short-listed candidates in a debate hosted by BBC home editor Mark Easton. Before becoming Deputy Chief at Leicestershire in 2012, Mr Edens was the Assistant Chief at West Mercia, and served for 17 years in Cambridgeshire after starting out with the Royal Ulster Constabulary. His aim for the force is to make Northamptonshire become the safest county in England.
We are supporting Mercy Ships Women's Health Goal to reduce the prevalence of obstetric fistulas among women by providing specialized surgical treatment, training and awareness. The birth of a child should be joyful, but for many women in developing nations, it's the beginning of a downward spiral into pain, loneliness and poverty as those without access to routine medical or surgical care during and after delivery may have chronic medical issues. These medical problems are relatively unknown in western countries where caesarean sections are widely available.
Mercy Ships doctors, nurses and other caring volunteers provide a holistic approach to treatment. The women leave the ship with follow-up instructions and knowledge to take back to other women in their communities. A donation of £6 is included within the price of each ticket purchased for this event.
Venue: - Northampton Marriott Hotel, Eagle Drive, Northampton, NN4 7HW.
7.00p.m. for 7.30p.m. Dress Code – Smart Casual.