St George's Day
The annual celebration in Pinner High Street, featuring the famous Wheelbarrow Race
The annual St. George's Day celebrations are held in Pinner Village High Street on a Sunday in April close to St George's Day. The picturesque High Street is closed to traffic for the day and transformed into a family friendly venue for celebrating the patron saint of England, St George.
This year our St George's Celebration will take place on
Sunday 22nd April 2018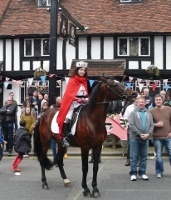 There will be entertainment for everyone with stalls and activities.
At 1pm the Scouts, led by the Mayor of Harrow and St George on Gusar the horse, will parade up the High Street to the War Memorial and renew their Promise. There will be folk dancing, Punch & Judy, live music, children's rides, a petting farm, food stalls and much more!
The Wheelbarrow Race
The highlight of the celebrations is always Ye Olde Wheelbarrow Race, a unique Pinner event in which teams of two take it in turns to push their partner in a wheelbarrow, drink beer and race round the streets of Pinner. This will take place at 3pm.
Are you interested in taking part? Sign up online or download an application form.
Don't feel up to pushing a wheelbarrow? Why not volunteer to be a Steward instead.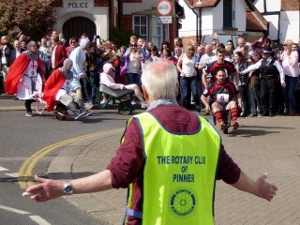 We are looking for able bodied persons who can assist us in keeping the public and participants safe during the race. You'll also get a grandstand view and be part of Pinner's favourite annual race.
Contact jez.foster@pinnerrotary.org.uk or steve.morrisby@pinnerrotary.org.uk for more details.
Watch the 2015 Wheelbarrow Race courtesy of Harrow Radio