St George's Day
The annual celebration in Pinner High Street, featuring the famous Pinner Wheelbarrow Race
The annual St. George's Day celebrations are held in Pinner Village High Street on a Sunday in April close to St George's Day. The picturesque High Street is closed to traffic for the day and transformed into a family friendly venue for celebrating the patron saint of England, St George.
Come back to this page soon to find out more about
St George's Day in 2018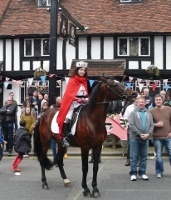 There will be entertainment for everyone with stalls and activities.
The highlight of the celebrations is always Ye Olde Wheelbarrow Race, a unique Pinner event in which teams of two take it in turns to push their partner in a wheelbarrow, drink beer and race round the streets of Pinner.
Watch the 2015 Wheelbarrow Race courtesy of Harrow Radio