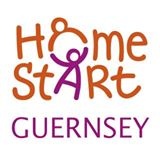 Home-StartGuernsey was launched 7 years ago, with the focus on volunteers going into the homes of families, with at least one child under the age of 5, who needed some support and friendship while they were experiencing some difficulties.
To date the work has been very successful and continues to be so. Following the NSPCC withdrawing from the Island, the drop in for families needing to meet and talk and get mutual support has been missing.
Home -Start set up a drop in called Dragonflies in April 2015 which has been such a success that they are looking to open another in St Martins in 2016.

Home-Start needs more funds to provide toys/equipment and train volunteers who will work alongside their play leader. At appropriate times the families will go out on visits which Home-Start funds. For example a group has visited the Library where activities have been arranged for them.
Home-Start made a presentation to Council in the Autumn of 2015 after which it was agreed to fund some play equipment which is shown above and was installed on Saturday 23 April, 2016.
Please click HERE to learn more about Home-Start Guernsey.