KYBP 23rd April 2016
Manchester Arndale
Know Your Blood Pressure / Stroke Awareness 23rd April 2016
Well, you have done it again! In spite of there being somewhat fewer people at the Arndale, due, I think, to both the Manchester football teams playing important matches, we took 779 blood pressures!
Again, one of the most important aspects contributing to the success of the event, is the fact that the Arndale allocated us a prime site, many thanks to Sonya Nolan for arranging that for us, this allows us to maximise the site, by having more tables and chairs on the site, and therefore the number of health professionals to take blood pressures. We had excellent student nurses (Billie, Tayler, Katie, Thomas and Alex) and lecture staff Ann Caress, Nessa Thomas and Carol Wilde, Scott Smith from the Stroke Association brought John Gott and Janine Scanlon, and, of course, we had the wonderful Dr Husaini all day, this year we were extremely fortunate to have ITV's Dr Chris Steele joining us at lunchtime, a really nice gentleman, and clearly passionate about raising awareness of the impact of stroke.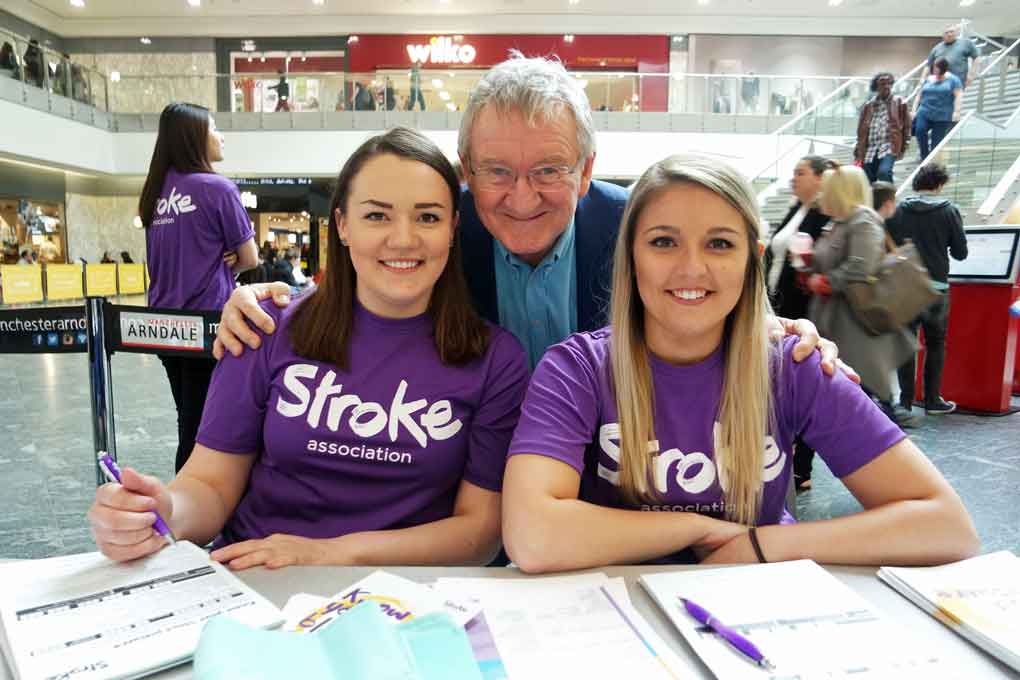 Of the 779 people we tested, 198 registered abnormal readings, 182 of those were advised to see their GP within one month and 16 (8male and 8 female) were of sufficient concern to be given guidance to visit their GP within one week.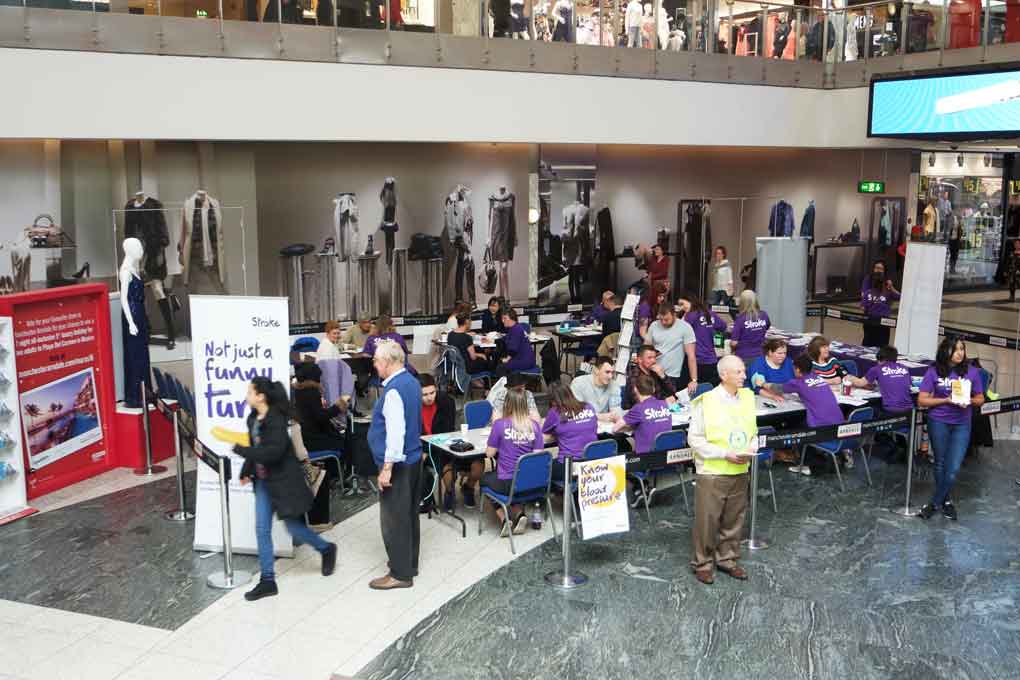 General health advice is offered to all who have a BP test, including how to recognise the signs of a potential stroke, and when to call 999.
I mentioned last year, that I feel as a result of using students from Manchester University's Leadership Programme, and Rotaractors to engage with the passing public, as well as Rotarians, and student nurses to take blood pressures, we encourage an equal number of people of all ages to come forward to have their BPs checked, this year 188 were between 18 and 29, 204 were 30 – 44, 206 between 45 and 59, 176 were 60 – 85 and 5 (all female) over 85. An interesting, and possibly worrying issue that seems to be emerging is the fact that we noticed a number of young men who are very muscular, and at the end of the event Ann Caress mentioned this and has said "Small numbers of males with higher than normal BPs and who, on questioning, indicated that they are body builders & used supplements (over the counter products e.g. from health food shops, anabolic steroids and / or testosterone) have been identified in each of the last three KYBP events. All were given appropriate advice by a qualified health professional, this is interesting and may merit attention at future events"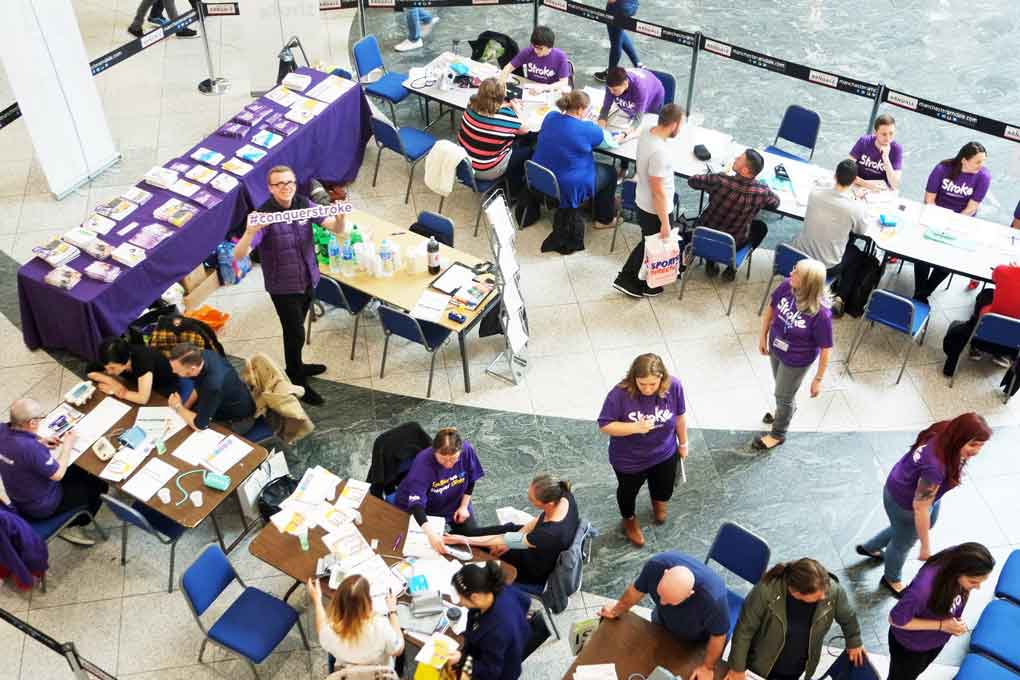 Those tested included 28 South Asian, 133 Other Asian or Asian British, 44 Black or Black British and 91 Mixed Race or Other Ethnic Group.
Every year there are individuals who particularly touch us, last year a gentleman who was a Big Issue seller was advised to attend A & E, he was using Narrowgate, a night shelter in Salford, they followed up the advice we sent with him, and made sure he was seen at Salford Royal Hospital, and subsequently have helped him find permanent accommodation in Fallowfield, we (the Rotary Club of Manchester) have subsequently retained a relationship with Narrowgate donating grocery essentials, and two members have donated money to support this worthwhile project. Imagine my surprise when I saw the same gentleman again this year, although his readings are still very high, he is having problems with his medication, and has an appointment with his GP this week, he was moved and quite emotional, when myself and Manuela recognised him, and remembered his story, he looked significantly better than I recalled from last year, and he said to me "I would not be here if it were not for this event last year" such a clear illustration of why this event is so important. In addition, I engaged with a young man in his mid-20s when I began talking with him it was immediately apparent that he had been affected by stroke, this had happened when he was 17, he had been playing football during the day, he did, in fact, hope to go forward and make a career in football, he was robbed of his dream almost at the flick of a switch by a stroke, his friendship group ebbed away, and it is evident he is very socially isolated, not able to work, it was a coincidence that about a month ago, I had been, as a representative of Cruse
Bereavement Care, asked to meet with a project in Tameside (he lives in Oldham) called Ingeus whose role is to support hard to place people, back into work, they are extremely supportive, respectful and passionate about this, and I asked the young man, Raymond, if he would like me to get in touch with them and get more info for him, I did this, got back in touch with him, and hopefully this may offer him a 'lifeline' He will keep in touch, and let me know how he gets on.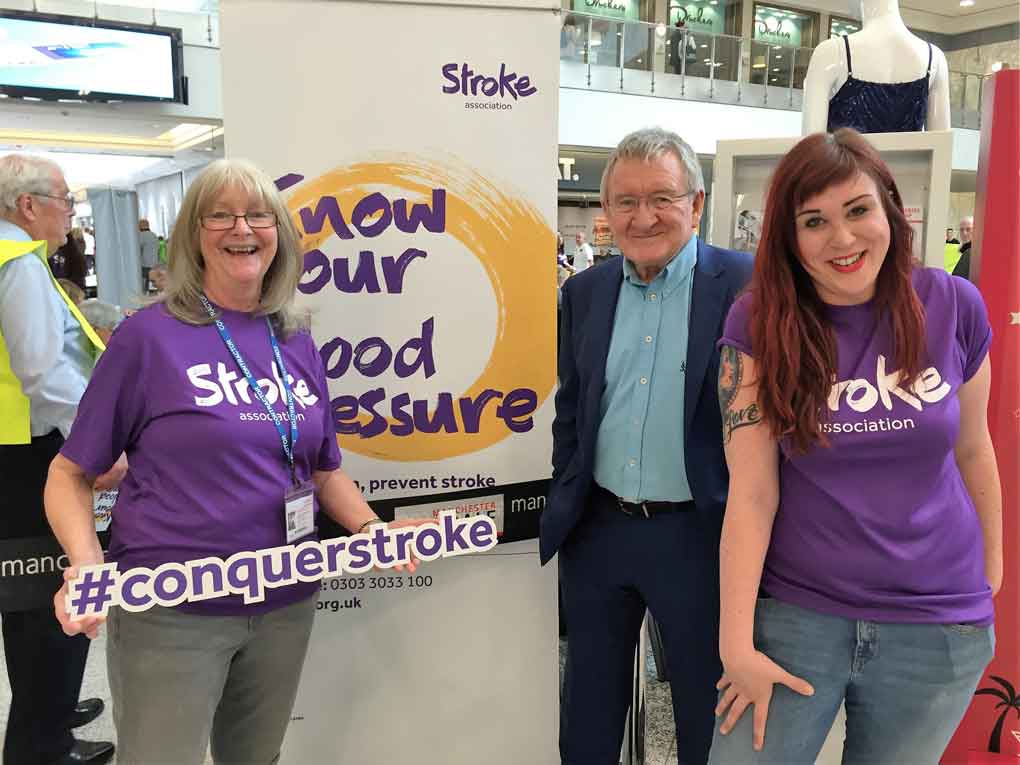 So without the help, enthusiasm and support of all the volunteers, including Rotarians Roger Walker, Derek Evans, Keith Malyon, Susan Craig, Ernie Metcalfe, John Abbott, Roy and Julie Chapman, Bill Laidlaw and Sinclair McLeod, friends of Rotary: Manuela Costanzo, John Dengate, Bella Rosenthal, Hazel Bachelor and Matt Knighton. Rotaractors: Theo and Benester and Manchester University Leadership Programme student volunteers: Yu Zhou, Qian Hong (Michelle) Mengjie, Yangguang, Inez, Madelene Yap, Evangeline, Joshua, Khor, Lucy, Fatima and Charmayne, and the support of the Arndale Centre, particularly Sonya, this valuable contribution to Public Health could not take place.
Rtn PP Barbara Rosenthal 29thApril 2016