Exploding the Myth - what our club is about
Trina Nunn 2013- 2014 president explains the ethos of Bury Abbey Rotary Club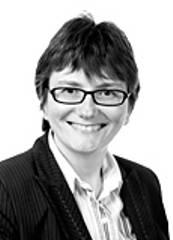 Trina Nunn, President, Bury Abbey Rotary Club
My aims for 2013/14
We should not forget what we have achieved over the last 6/7 years in Bury Abbey Rotary Club - we have raised in excess of some 50,000.00, and that money will have provided help and assistance to many local and international charities, either from the fundraising events such as Test The Town, Fizz on Friday, Pub Quizzes etc but from our other efforts with tin rattling, stewarding, painting, decorating, providing BBQs etc, not to mention the time that our members have spent undertaking all of these activities in their (scant) leisure time.
One of my aims in my Presidential year is to support the Local Community, whether this be through financial assistance, or by providing members man-power to assist in specific project work.
I want to be able to raise the profile of Rotary and in particular Bury Abbey Rotary within our local community, and the Bury Free Press can be instrumental in doing this.
All too often, we are hampered in gaining new members by the branding of Rotary as:
Men in business suits
Men over a certain age (usually 65)
Strange ceremonies/funny handshakes
Exclusively for legal and accountancy professionals
By my photo appearing in this feature, this will dispel some if not all of those misconceptions. I do wear a business suit occasionally, but I do not do funny handshakes and I am definitely not over 65 or male. I am also not the youngest member of our Club! Our membership ranges from their 20s through to early (but very youthful) 60s. Our membership is not exclusively drawn from the traditional professions like law and accountancy. We do not meet every week. All of us have jobs and work full-time.
We meet fortnightly on a Monday at 6.30pm at The Brewery Tap in . We have business meetings (where we talk about what we have achieved in terms of fundraising and what we have on the horizon), but we also have a lot of social meetings. These include pub tours, farm walks, visits to local museums for behind-the-scene tours that are not available to everyone, rounders, ten-pin bowling, pub quizzes and even croquet recently.
By having a good mix of work and play, it makes the Club membership gel and our membership has been fairly steady for the last two or three years. However, as we are all of working age, we do lose members from time-to-time due to family commitments and pressure of work.
This is where we hope that our feature will appeal to your readership because we need to attract new members all the time. We are not interested in growth for growths sake. Bigger is not necessarily best. What we want to attract are committed members of the Community who can devote some time to helping us reach our fundraising target of 10,000.00 for the next presidential year.
My chosen Charities for 2013/14:
St Nicholas Hospice
The Papworth Charity
Wash Sailability
Finally I am also very keen that we must all have fun with our involvement in Rotary we are all volunteers and if we cant enjoy what we do in Rotary and have fun along the way we will not be getting as much out of it as we should!