Doing it all again in 2017
It's a GO!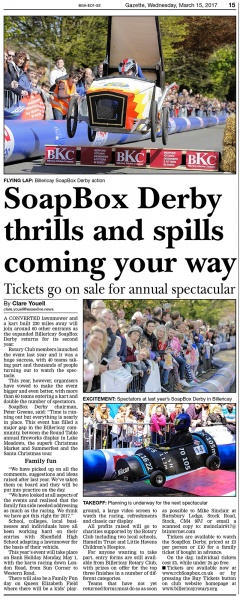 President Ed Harrison announced we'd do it all again. Following a unanimous decision at the club's Business meeting, the Soapbox Derby returned to Billericay in May 2017. A fantastic success for the club - the weight of unsolicited positive comments on Facebook, Twitter and email, and direct approaches by the public, meant we just couldn't let people down. over 5,000 spectators in 2016 - over 8,000 came in 2017?
Interested in taking part in 2018?
If you would like to be notified when entries for the next Soapbox Derby opens, then please click on the icon below to go to a page where you can enter.

Or either, click on the website address below, www.billericaysoapboxderby.co.uk
or copy and paste it into your Browser.
Interested in Sponsoring a 2017 Team?
Get Involved! Take a personal interest! Sponsor one of the Soapbox Teams!

Every team has to raise at least £100 in sponsorship for the Soapbox Derby charities
Click on the link below to see the list of teams entering the 2017 Soapbox Derby to make a sponsorship donation.

Want to be kept informed?

If you do,

"like" our Facebook page: www.facebook.com/BillericayRotary

and follow our Twitter feed: www.twitter.com/BillericyRotary
Documentation

The Programme, Prizes, Rules & Regulations have been completed and are accessible by clicking on the links below:
100% of ALL Profits raised will go to Charities supported by Rotary including:
Local - Local Schools, Hamelin Trust & Little Havens Children's Hospice.
International - Médecins sans Frontières (Doctors without Borders), Aquabox and Rotary Foundation – End Polio