Club Speakers 2015/16
Wed 29th June 2016 at 17.10 - 18.10
Club Speakers 2015/16

Rotary Club of Birstall Luddites
Club Speakers 2015/16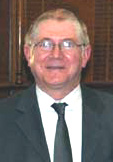 The club Speaker Finder is Rotarian Paul Barnes

Mon 27th July Club Speaker Paula Godfree - "Equine Pathways UK"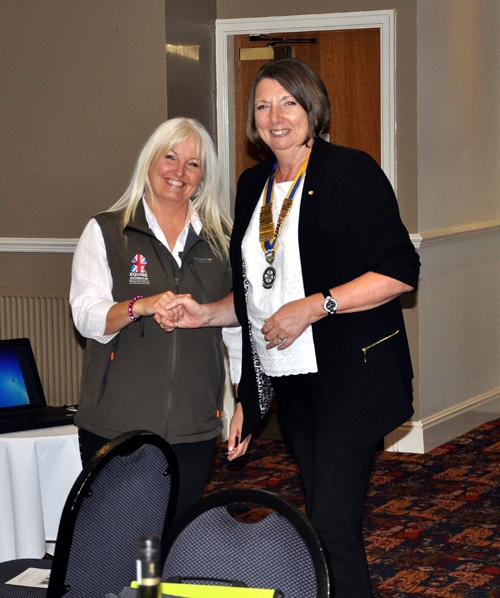 President Margaret with Paula Godfree

Three ladies Paula Godfree, Michelle Eastwood and Carole Rimer came to the club and gave an insight into Equine Pathways UK.
Paula Godfree gave a talk explaining how they were formed in Feb 2014 by two like minded ladies herself and Carole Taylor owner of The Yorkshire Equine Clinic in Gildersome
Paula gave an insight into their team - Twiggy and Peanut, JD, Wizard, Little Jack and Pablo.
All the horses and ponies have their own story of being rescued, rehabilitated and then being happily established into the EPUK team.
EPUK give free equine assisted therapy sessions to people suffering with depression, adults and children with disabilities and additional needs, our troops suffering with Post Traumatic Stress Disorder and children who may have been bullied at school and need their confidence and self-esteem rebuilding.
Carole Rimer gave her story of how the horse therapy had helped her with her depression.
EPUK were awarded Charity of the year from M&S Owlcoats.
EPUK have no charges and all services are free and open to everybody.

LINK Equine Pathways UK web site


Facebook site
---
Club Speaker Mon 17th August.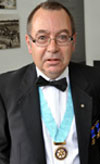 Luddite Rotarian John MacKail.
John's planned talk was on his Facebook site - The Rotary Club of Birstall Luddites.
This had to be cancelled due to technical problems and Plan B was a talk about his father
" My Dad and his War"
John's dad started work as a Cooper, he joined the Army during the war and they sent him to the RAF whereby he became a RAF lifeboat coxswain. The start of Johns amusing talk.
His father then became a wireless operator and rear gunner based in Cornwall. He was posted to Egypt where he met his father who was in the 8th Army. Next he was posted to Burma where he was shot down twice over the jungle and survived. He moved on to Sydney and the story concluded with John talking about the Atomic Bomb and the battle for Okinawa and the end of the war.
A very entertaining story enjoyed by assembled Rotarian's
.
LINK Johns Rotary Club of Birstall Luddites Facebook site

---
Club Speaker Mon 24th August
Luddite Rotarian Robert Jackson.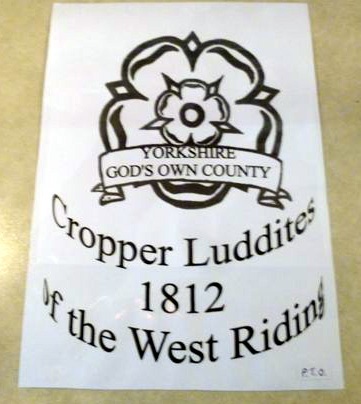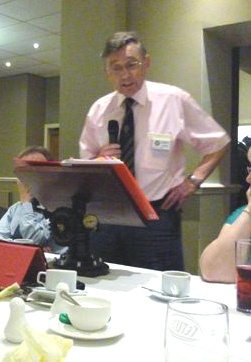 Robert gave a talk about local Luddites - Roberts words:-
" We had a good meal as is usual and it was my pleasure to tell our members a little of the "story" of our local Luddites, especially of the attack on the local Rawfolds mill, Liversedge, in 1812 by the croppers. The Croppers were skilled workers who saw the end of their livelihood and work with the introduction of the "new" mechanised cropping frames. They were proved correct as history tells us, yet it took many lives, workers & mill owners alike, to prove so. PP Martin explained the origins of our Rotary Club of Birstall Luddites naming, perhaps we still in some measure keep up to those early days in 1988 when we were Chartered?."
Robert


---
Club Speaker Mon 28th Sept
Brian Harrington - Outlook Trust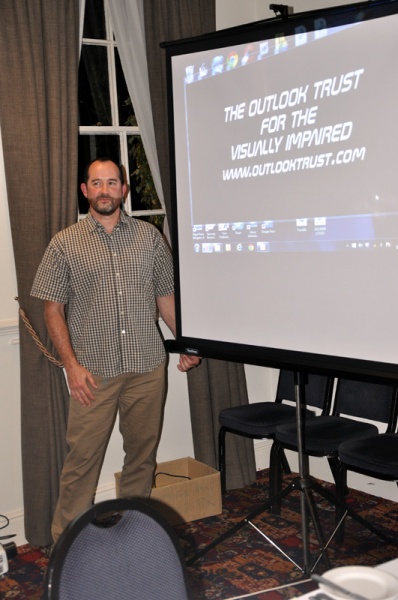 Brian Harrington
Brian attended our meeting and talked about his son Sean and how helping his son lead him into the Charity The Outlook Trust.
They are a Charity for blind and visually impaired children with an ethos of teaching specific independent living and mobility skills. They provide respite for parents. They give children the opportunity to form and develop long-term friendships with other children with similar disabilities.
Brian showed a video of Outlooks weekend holidays where they take eight children on a variety of activities, horse riding, tree climbing, canoeing in Lake Windermere and mountain bike riding. Brian talked of Skiing trips and showed his son skiing with the aid of a skier leading Sean with a music box which looked incredible for a blind child.
Brian talked of the costs of £250 per child for the weekend and that their major sponsor was Children in Need receiving £30K per year with 20 helpers in Outlook Trust who are all volunteers.
It was pointed out by Robert J that Brians son Sean had received a braille dictionary from our annual distribution of dictionaries to Birstall schools and how he used and still uses the dictionary.
Bill Fox thanked Brian for his visit .
(Brian is Healds Hall Hotels owner Tony Harrington's son)
LINK Outlook Trust
---
Club Speaker Mon 26th Oct
Trevor Brown - West Yorks Police.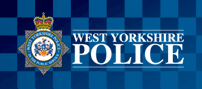 Trevor visited the club and gave a talk about the West Yorkshire Police
Protective Services Division.
He talked of the Police changes in West Yorks with the reduced budgets and how they now have to be multiskilled.
Trevor talked about Airops, SRANS, Neighbourhood Support, the Mounted section and the Dog section.
West Yorks is still fully staffed with two horses working in the community.
They have four dog officers with German Shepard dogs, drug dogs and body dogs and passive dogs for airport and city searches.
President Margaret gave Trevor a club thanks for his talk .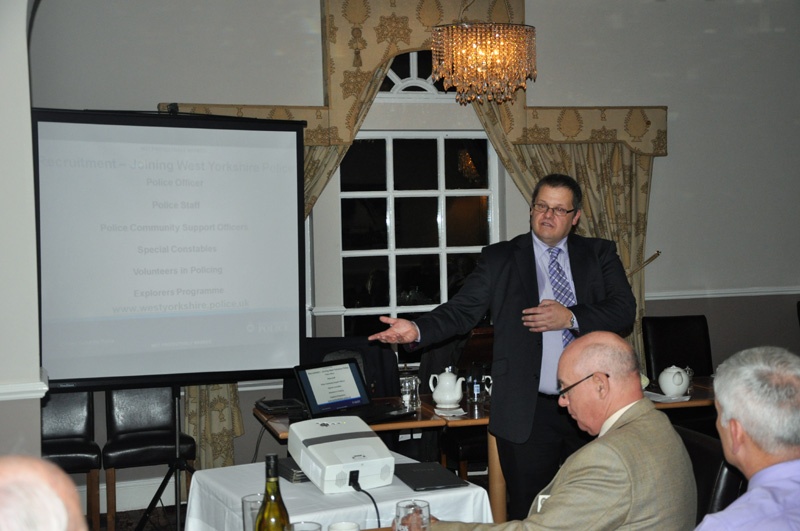 Trevor speaking at Healds Hall.
LINKS West Yorkshire Police
---
Rotary Club of Birstall Luddites
Mon 9th Nov 2015
The Worlds Greatest Meal to Help End Polio
Speaker - Our Luddite Rotarian Robert Jackson
"99% there - the fight against Polio"

Robert has been touring District 1040 giving clubs an update on the world Polio situation.
Clubs all over the world have been partaking in the Greatest Meal with funds being raised for contribution towards the End Polio Now campaign. Every dollar raised will becomes THREE Dollars thanks to the Bill and Melinda Gates Foundations generous top-up policy.

During our weekly meeting Robert organised with Healds Hall for our normal three course meal to be changed to a simple meal of soup and sandwiches. Although paying the normal meal cost half the sum was raised for the fund raising thanks to Healds Hall Hotel.
After the meal Robert gave a talk explaining the meal and the wold polio facts.


Robert is the "

End Polio Now

" Co-ordinator for 1040 District, and gave members an interesting update on the status of Rotary's commitment to help eradicate Polio worldwide. Nigeria has now been polio-free for a year, and in two years' time all of Africa should be declared free of the disease, leaving just two countries - Afghanistan and Pakistan - with a small number of cases, and diminishing year on year. (Pakistan with 38 cases, down from 219 the previous year). A new policy is being introduced to use innoculation (IPV - Inactivated Polio Vaccine) rather than oral OPV (drops on the tongue) vaccine, which although a lot more expensive is apparently more effective in avoiding the long-terms side effects of OPV. Members interested in learning more about the rationale can find additional information

here.
---
Rotary Club of

Birstall

Luddites

Club Speaker Rotarian Ken

Robertshaw

- "Kayak down the Mississippi".
The Club welcomed Ken to Heals Hall on Mon 18th Jan to speak about his journey down the Mississippi.


On 7 August 2014, Ken with friend former RYLA awardee Grace, 22, set out on an expedition to kayak the length of the Mississippi River. Kayaking 2,350-miles from the start of the American River at Lake Itasca to the Gulf of Mexico.
Ken talked about the start of the journey in the wilderness navigating around beaver Dams and crossing lakes to the first lock in Minneapolis.
Near St Louis a US Rotarian took them to a hotel for two nights which saved them from a tornado storm on the river a potentially life saving rescue . Ken talked of the big problem with very large ships and later the last part of the Mississippi which was heavily industrialised.
They completed the journey on 4 October 2014.

Their goal was to raise funds for a charity in the United Kingdom,
The Theodora Children's Trust, that places specialist entertainers in Children's hospitals and hospices to cheer up ill children and assist their recovery through laughter.
Paul gave thanks to Ken for his talk from club members endorsed by President Margaret .
| | |
| --- | --- |
| | |
| Grace and Ken on the Mississippi | President Margaret with Ken |
LINKS The Theodora Childrens Charity

Read more: http://www.

halifaxcourier

.co.

uk

/news/

mississippi

-kayak-challenge-1-6872811#ixzz3xnHDPORg
---
Rotary Club of Birstall Luddites
Club Speaker Malcolm Wells MBE - "Canine Partners" - Mon 29th Feb.
The Club welcomed Malcolm to Healds Hall to talk about Canine Partners.
Malcolm gave a lively talk explaining the role of the dogs amazing partnerships with their disabled owners. Malcolm talked of their aim of opening another center in a locality near Leeds.
He explained how they make a lasting difference to the lives of people with physical disabilities.
Canine partners are carefully matched to the applicants' needs and lifestyle, no matter how challenging. They are trained to help with everyday tasks such as opening and closing doors, unloading the washing machine, picking up dropped items, pressing buttons and switches and fetching help in an emergency. They can even help people to get undressed and remove a card from an ATM!
View the You Tube video below to watch the dogs in action.
This has to be seen to believed.
Below Malcolm talking to the Club.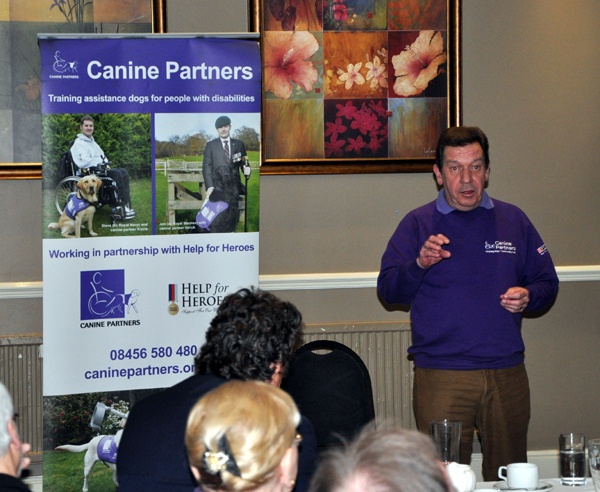 Paul gave thanks to Malcolm for his talk and his long drive to Healds Hall.


LINK Canine Partners
LINK Canine Partners Annual Review
---
Rotary Club of Birstall Luddites
Club Speaker - "Yorkshire Air Ambulance" - Mon 21st Mar.
The Club welomed the speaker Tracy Gregory from Yorkshire Air Ambulance.
"The Tracy clearly and enthusiastically presented to our Monday meeting, where six remaining Charter Members were present. She gave details of the history & ethos of the Yorkshire Air Ambulance and clearly gave us a great insight into its workings. There are 17 Air Ambulances in the UK but only one "Yorkshire" one so beware of misspelling by others.
The expense of running this great charity is down to the population of Yorkshire ~ there is no Government funding so their presentations to meetings such as ours is one of the ways of fundraising and showing the public what they do. £12,000 a day is need, so every little helps with a replacement windscreen wiper costing £1400. Coming to the end of their working life the two helicopters will be replaced this year, one soon & the other at the end of the year with a special price negotiated by buying two. After being thanked by member Paul, her stall selling related items seemed to be busy. They need all the help we can give & our monies and support of the charity over many years has proved to be well received and used." ~ J.R.J.
Paul gave the Clubs thanks to Tracy.
Below President Margaret with Tracy YAA Speaker ..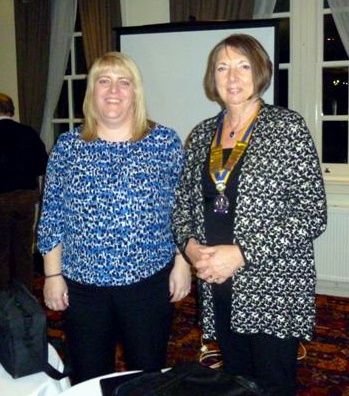 ---
The Rotary Club of Birstall Luddites
Club Speaker - Marten Koopmans - " How Europe Works" - Mon 16th May.
Marten a Rotarian from Ilkley Wharfedale visited the club and gave a talk on the EU.
A Non political and Factual Presentation taking questions to finish.
The Club invited partners and inner nine Rotarians to hear Marten due to the topical
interest of the coming EU referendum.
Marten talked of the 28 states with 500 million population. He gave a detailed explanation of the EU function highlighting Peace, Prosperity, Protection, Power and the Politics.
John Mackail thanked Marten for his talk

| | |
| --- | --- |
| Marten with Luddite John Mackail. | |
---
The Rotary Club of Birstall Luddites
Club Speaker John Mackail Mon 13th June.
Anniversary of D day - "The enormity of that One Day"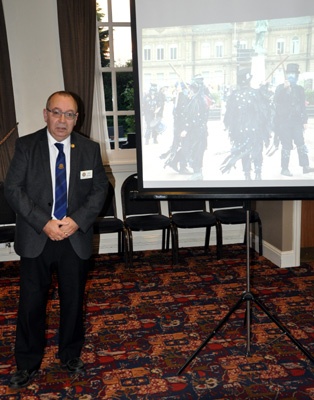 John gave a talk about WW2, Churchill, Dunkirk and the invasion of allied forces into France.
John picked 3 subjects to highlight - Bocages Pluto and Mulberry.

Bocage refers to farmland separated by thick coastal hedgerows. These hedgerows are denser, thicker, and higher in Normandy than elsewhere along the French coast. and John talked of the big problem we had getting through these hedges.
Operation Pluto (Pipe-Lines Under The Ocean) was a Second World War operation by British engineers, oil companies and armed forces to construct undersea oil pipelines under the English Channel between England and France in support of Operation Overlord, the Allied invasion of Normandy in June 1944
Mulberry harbours were temporary portable harbours developed by the British during World War II to facilitate the rapid offloading of cargo onto beaches
John talked of the 2 million Canadians and Americans and where we hid them prior to the invasion.
John talked of the deception of the invasion beaches at Cherbourg, Pas de Calais and Normandy.
Also French resistance, landing craft, the role of the BBC,
Montgomery and the flattening of Caen.
John mentioned Ivanhoe. This was the last ship to leave Dunkirk,
HMS Ivanhoe just made it back to England in a very bad state
Phew well done John.
President Margaret thanked John for his talk.
LINKS Operation Pluto

Bocage hedges
Invasion of France 1944
HMS Ivanhoe - one of last ships to leave Dunkirk
---
The Rotary Club of Birstall Luddites

Club Speaker Robert Jackson
Update on the Yorkshire School in Sri Lankia - June 14th 2016

| | |
| --- | --- |
| | |
| Robert with his Sri Lankan map | The KSV Yorkshire School |
Robert gave the Club an update on the Yorkshire School.
Robert has played an important role in the story of the school .
In his year as District Governor of District 1040 - "I was DG in 2004/05 when on Boxing Day 2004 a Tsunami hit South East Asia. Contact with Sri Lanka by our District International Chairman Em Lloyd-Davis was made on that day, and within a month £20,000 was raised, rising to £200,000, the first District in RIBI to send aid. A group visited the island and saw the school Re Awakening Project which we accepted, our District raised the funds to pay for a new school- £250,000 within the year and the anniversary of the disaster"
40 Shelterboxes and Aquaboxes were sent to assist Tsunami survivors.
The Foundation stone for the new school was laid on 5th Dec 2005 to rebuild the Kaluwanchikudy Saraswathy "Yorkshire School "in the Tamil area near Battiocaloa.
Construction took almost two years to complete with 17 teachers and 400 students up to the age of 16 including a fully-equipped computer centre, library and sports facilities. In recognition of our efforts, each of the 20 classrooms are called after a Yorkshire town The School construction was completed in September 2007. The School was to be run and maintained by the SL Government.

On 16 to 24th Nov 2015 Robert and Jill returned with a team of 12 from District 1040 to visit the School.
They stayed initially in Colombo and visited The Rotary Club of Cinnamon Gardens meeting President Nanda Corea ( who was also President 10 years ago when the Tsunami hit) They went onto Kandy attending the Rotary Club of Kandy meeting.They then visited the KSV Yorkshire School taking our gifts and being welcomed by the staff and children.They met Rotarians from Kalmunai Rotary Club and our friends from Cinnamon Gardens Club.The tour took them around the island visiting Rotarians and finished back in Colombo entertained at the Sporting Club by the President and rotary club members after visiting the DG George Jesuthasan.
The visit was organised by
Rotarian PDG Em Lloyd-Davis and was self funded by all visiting Rotarians

Robert talked of the visit to the school and reported on the state they found there.
The school was built on three levels but only one was now in use.There were no doors or windows in the school it being too hot. A room full of computers was locked and not used. Three violins had been given to the school but they had disappeared.There were initially 300 pupils but this was now down to 150. The school hall floor was in a very poor state as were the classroom floors, the roof had holes in it (coconuts falling through the roof tiles)
this had led to water getting into the building. The toilets were in a very poor state.
Robert talked of their meeting with the headmaster and his needs.
Robert explained that the school was built during the Tamil Tigers civil war and that the main contractor had changed half way through the build.The control of the build had been through the Government
and not Rotary.

So now a new fund of £10500 (LATEST NEWS AND PHOTOS OF SCHOOL PROBLEMS)was being planned in District 1040 to return to the school
and bring the school back up to the full potential of the initial Yorkshire School.
Robert was confident that the refurbishment improvements under the control of
local RC of Kalmunai in conjunction with the Education Zone should be successful.
LINKS Craven Herald

Yorkshire Post
Rotary Club of Cinnamon Gardens Facebook site
Link to our 1040 site " THE School opens"
---