Roger Cassidy - Aquabox
Thu 19th January 2017 at 19.00 - 22.00
.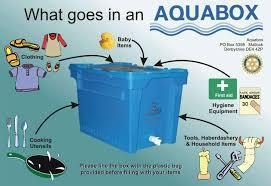 Roger Cassidy - Aquabox
Host :- Tony Ward.
Gordon Exeter/Tim Bentley
Since being first established over 20 years ago, the Aquabox has been very effective in delivering clean water in emergencies. However, its previous use of chemical tablets with a carbon filter meant that it could only deliver a finite amount to cover the most basic drinking water needs of a family for first four months in the case of the then Standard Aquabox or 33,000 litres in the case of Aqua 30s.