David Rice - Haslemere Food Bank
Thu 26th January 2017 at 19.00 - 22.00
One of the Presidents chosen charities for the year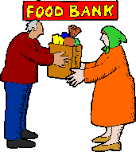 David Rice - Haslemere Food Bank
Host - Roy Wylam
Hosts Graeme Hanney/Roy Pountney
The food bank offers emergency, temporary help to families and individuals who, for what ever reason, find themselves in financial difficulties.
The help comes in the form of food parcels which will provide meals for 3 days, to those who are referred to the bank by various statuary and voluntary agencies working in the area.
The provided food comes mainly in tins, jars, and packets which can be easily stored without the need to refrigerate . All donated food is provided by the people of Haslemere and surrounding areas.