Tony Ward - The Lieutenancy
Thu 2nd February 2017 at 19.00 - 22.00
.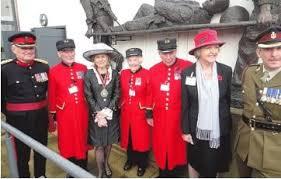 Tony Ward - The Lieutenancy
Host - Rob Terry
Fellowship - Kerstin Ochel/Mike Jones.
Deputy Lieutenants (DLs) are commissioned by the Lord-Lieutenant, with candidates 'not disapproved' by HM The Queen. Their role is to support and promote the Lieutenancy in Surrey and to represent the Lord-Lieutenant, performing a range of public duties when required.

The maximum establishment of DLs in Surrey is 57. That number is based on the county's population of
around
1.2 million people. There are 43 DLs currently on the active list. Deputy Lieutenants retire at the age of 75 and then join a supplementary list, but carry out no further duties as a DL.
The DLs in Surrey reflect a broad range of services to the community, cultural background, ethnic mix, gender and social range. They are often well known in the locality for their work in the local community or nationally, or for their distinguished service in other fields. This could be through public life, the uniformed services, charitable or volunteering activities.