Geoff Walls - Pearls of the Orient
Thu 25th May 2017 at 19.00 - 22.00
.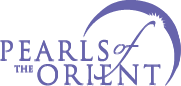 Geoff Walls - Pearls of the Orient.
Host - Rae Boxall
Fellowship - Rob Terry/Jenny Mason.
Pearls of the Orient is a family operated business, based in Haslemere, that first ventured into the world of fine freshwater and South Sea pearl jewellery in 2001, retailing at commercial and charity fairs throughout England, following which in 2005, Pearls of the Orient Guildford opened.
In 2002, Vanessa & Sacha began participating in major wholesale fairs and today Pearls of the Orient (Wholesale) supplies more than 200 jewellers, major retailers and fashion boutiques throughout the United Kingdom and Eire.
In 2011, Vanessa & Sacha launched Pearls of the Orient Online Ltd. which offers a wide range of freshwater and seawater pearl jewellery including necklaces, bracelets, earrings, hair combs and more!
We feel very fortunate to work with such a beautiful product and love travelling far and wide to source high quality pearls. From the weird to the wonderful, we welcome customer requests and challenges!