Carnival of Thrills Spills and Fun
After ten months of assiduous, gruelling and heart-thumping talking, discussing, working and negotiating, on Monday, May 1, 2017, we can say proudly that the Soapbox Derby was a great success. 50% more spectators, and MUCH MORE FUN!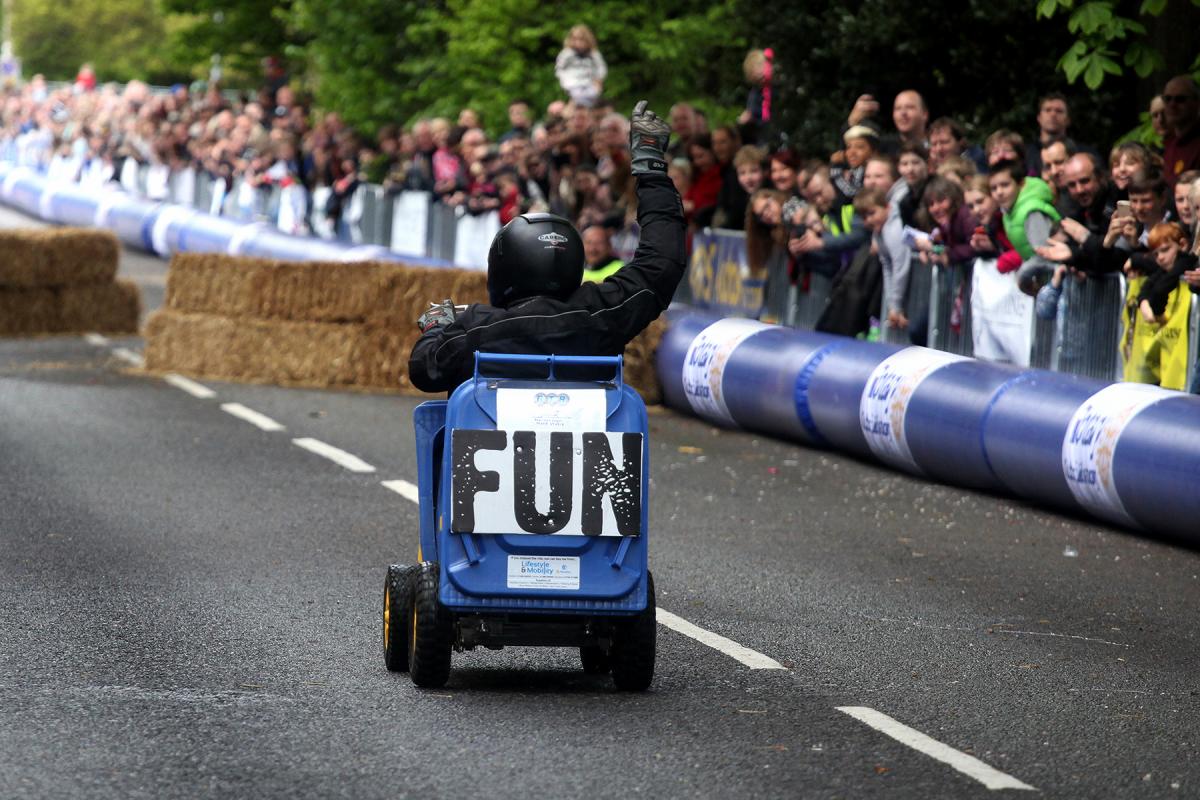 A Kartful of Fun
Two early World War II British films summed up our event perfectly.

Firstly: "Went The Day Well?" , a fear that we might not be winning the war. Well, Our Day Went Wonderfully Well!

After ten months of assiduous, gruelling and heart-thumping talking, discussing, working and negotiating, on Bank Holiday Monday, May 1 , 2017, we can say proudly that we won not only most of the battles, but we certainly won the war.


A deluge of .... spectators
We had set it up, we knew we had sold 60% more tickets on line than last year. Everything was ready with less than a hour to go to Open Gates at 9.00am. The course looked Spectacular, the Queen Elizabeth 11 Field was alive with hi-viz ants (sorry, Rotary and all our volunteers from the other service clubs), the big screen was ready to show live racing and share the fun with those watching at trackside along London Road.

What a great innovation the big screen proved – at times spectators fifty deep, straining to see the action, parked seats in front, youngsters hauled up on dad's shoulders. And all waiting for a kart to crash!

Then the wait. Tickets sold in advance suggested already a crowd more than that estimated 5,000 in 2016. How many more? Eye on the weather – please let the rain hold off. Gates manned, scanners at the ready, race card and raffle stalls prepared, smells eminating from the food outlets – a bacon roll or two went down well for the early birds – the 6.00am working gang, then suddenly 9.00am and gates open.

A trickle at first, more now as race start time approaches. "Thunder Road" beginning to fill up. Eventually it will be four deep on the QE 11 field side – eight, nine deep on the mounds in front of Hilary Rise. Children to the front – room for another one there – advice from our inimitable MC Ken Smith was constant throughout the day: Stay safe behind the barriers and enjoy the fun.

Then the invasion. The crowds came, hordes of them. Families of four and six and eight, mums, dads, brothers and sisters, grandmas and grandads, the teenagers in skimpy tops and holed jeans, the disabled and even the dogs. Welcome all!

Beeline to the pits and the karts. And what karts! Carnival time! Multi-coloured, highly-designed. The kids loved them.... the galleons, all five of them representing different entries, pirates galore, space rockets, a wild west Stagecoach, ice-cream van and you could not miss the three yellow karts of Trotters Independent Traders – Del Boy, Rodney, Grandpa, Only Fools and Horses relived – but so it seemed were the teams. Fancy dress wasn't in it! And Quilters Junior School head teacher Mike Wade dominating the scene with a Wadeyman outfit that would have made even Superman green with envy.

Excitement all round
So they came. And so did the Sun God as the day blossomed and the mood became more and more positive. More stringent, more laughter, more excitement. Key word – excitement. I was interviewed at the start of the day for the Gazette's YouTube. Their first question: "Are you excited about today?" Only one answer- Yes.

Early calculations suggest we reached a figure of about 8,000, an increase of 50%. All power to our elbow.!

Which makes that second WWII film significant....In Which We Serve. It was all about sacrifice and service. Which is what our Club members and all those other service club volunteers did on the day – served and sacrificed. Plenty of other things to do on a Bank Holiday Monday but, for all of them, only one place to be – the Soapbox Derby.

That is why the most telling comment I had as she was leaving was from a lady from Chesterfield. Down in Billericay to visit her son, she said: "What a magnificent day we have had, please pass on our thanks and goodwill to your Rotary club members and everyone who has worked so hard to make it so memorable."

Her words are echoed by many more on the day;

• "We all had a fantastic time – already planning for the next one."
• "Thank you and the rest of Rotary. The event gets better each year. Entry forms for next year please."
• "I hope you slept well last night! I know I did – thanks again for putting on such a fantastic event,"
• "He may be 12 going on 18 but Joshua had a great day and everlasting memories were made for one young boy. All I can say is thanks to The Rotary Club of Billericay."

And such comments as that of Helen Connor on a Facebook post to the Billericay Duscussion page: " Absolutely loved it! Bigger and better than last year. The improvements from everyone's comments last year were all actioned on. I feel very privileged to live in a town like this! Well done all involved."