Rotary Golf Day 2017
Close contest for Rotary Golfers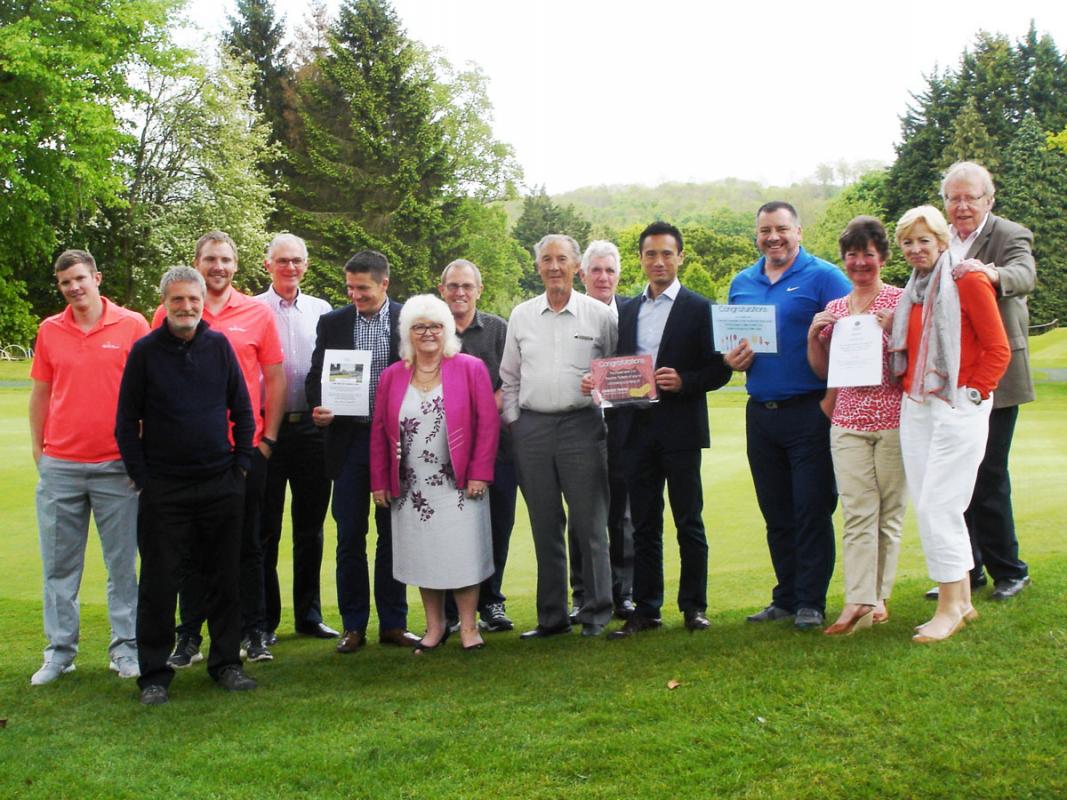 Show related pages
Newbury Rotary held their 7th consecutive Charity Golf Day at Donnington Valley Golf Club on Thursday the 11th May and what a close contest it proved to be. The event this year was sponsored by Charter Travel and £1852 was raised in support of Rotary charities including Parkinsons, Newbury and the Rosemary Appeal for a new cancer treatment and kidney dialysis unit at West Berks Hospital. £1000 will be donated to Parkinson's, Newbury and £852 to The Rosemary Appeal, the latter trebling to £2556 by virtue of the Greenham Trust / Englefield Trust/ Peter Baker Foundation matched funding support.
The event's organizer, Rotarian Trevor Gibbons reported "The day was a complete success fielding 11 teams of 4 golfers enjoying tea / coffee with bacon baps before heading out for 18 holes of golf followed by a succulent 2 course meal and a raffle draw for many donated items and a special draw for 2 valuable theatre tickets kindly donated by our sponsors, Charter Travel".
There were many compliments given to Donnington Valley's Director of Golf, Peter Smith regarding how beautiful the views were from the club house terrace.
With 44 golfers playing, a two tee start was provided from the 1st and the 10th tees. The golfers were blessed with a day which missed the local downpours, staying dry and warm, ideal for golf with the course in excellent condition and beautifully manicured.
After a competitive day the results were very close, and required a countback system to determine final placings:
In 3rd place with 80 points, was "Team Tang" comprising Simon Tang, Simon Sayers, Simon Alston and Roger Colbourne who stood in for a player who became ill overnight.
In 2nd place, also with 80 points was "The Long, Short & Tall" comprising Graham & Mary Wingrove, Graham King and Lorna Gibbons.

The outright winners on 81 points were "Team Better than Monte Carlo" fielding Kevin Dixon, Gerry Dixon, James Mann & Andy Bray – all of who received their new range of golf shirts from the Pro-shop.
The "Nearest the Pin" on the 18th hole was won by Mike Faulkner.
The day ended with all saying that they had had a good time and looking forward to next year's event. Photographs from this year's event will be added to our website at http://www.newburyrotary.org
Trevor Gibbons added "This event is now an important feature in our Rotary year and we plan to hold this event again in May 2018 and Charter Travel have again kindly offered their sponsorship, so check out our website for more information and an entry form. The day is open to all golfers."