Rotary Foundation Peace Scholars programme,
Sat 28th October 2017 at 10.00 am - 5.00 pm
The 2017 seminar will be held in Bradford University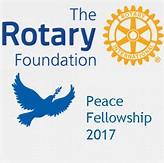 Fellow Rotarians and supporters of the Rotary Foundation Peace Scholars programme,
The Seminar at the University of Bradford will be held on SATURDAY 28 OCTOBER with the celebration dinner on the evening before at the Midland Hotel, Bradford, will soon be finalised.
The theme for 2017 will be "PATHS TO PEACE" and as well as presentations from the Fellows of Class XV they have secured as a guest speaker Nava Ghalili a journalist, former TV news anchor and human rights activist from the USA.
The costs have been maintained at £25 for the seminar only, this includes a lunch, and £30 for the celebratory dinner. The hotel is again offering rooms at a discounted rate, £65 for a single and £75 for a double/twin including breakfast. Rooms must be booked direct with the hotel on 01274 735 735 quoting code ROT271017.
Please put this date in your diary - and watch for details of the booking site going 'live' via email or the Rotary GB&I members mailing.
Thank you for your support in the past and we look forward to meeting you again this year.
Ken Robertshaw
Host Area Coordinator - Peace Fellows at Bradford University