How The Carnival Beat The Cold To Still Roll On

Here is the Official highlights video of the event created by Jessica Crosby:
Official Highlights of 2019
(Thanks to Jessica Crosby)
2019 Soapbox Derby Newsletter
Click on the image below of the front page of our Newsletter to access the PDF and wander through the souvenir edition of our 2019 Spectacular Charity Soapbox Derby.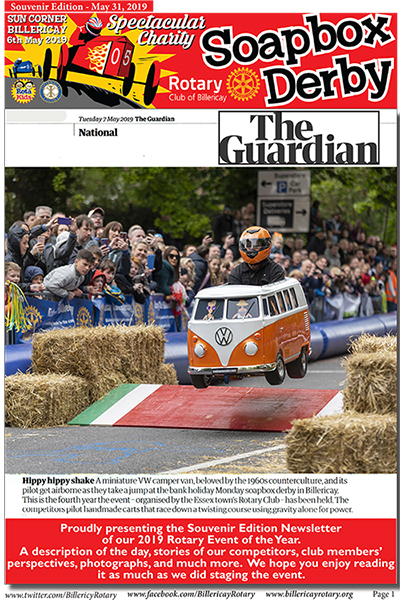 Another Spectacular Rotary Club Charity Day
Bank Holiday Monday, 2018: We sweltered in Sahara sun and Swedish sauna.
Bank Holiday Monday, 2019: All change. We were gripped by the huge refrigerator which found its way from Siberia!
Yes, it was cold for our fourth Spectacular Soapbox derby, finger-freezing cold. No T-shirts and shorts this year. Beanie hats (not quite balaclavas), a scarf or too and frequent blowing on hands. So much for Bank Holiday Mondays in early May! But, as some wit, hiding in the depths of a Rotary gazebo, declared. "At least it's staying dry." Small mercies.
Club organisers spent a week studying weather forecasts on TV, twitter, Instagram, iPads and, no doubt, the odd Billericay witchdoctor. Not great but not a disaster. So, no surprise then that the crowd did the same and waited until the day before deciding to join the carnival. Which, in the end, they did in their thousands, god bless them. Over 8000 again this year - not quite last year's total who had baked in bikinis and miniskirts on Sun Corner, but, wow, still appearing in their support for the event, the good causes and the Rotary nominated charities.
Fancy Dress And All That!
So, the sky was grey, the grass on the QE11 field as green as ever and the various gazebos and tent added a mini spark of colour to the scene. For spark, read sparkle, however. It flowed from a wonderful entry of highly painted karts and, in some cases, their more even highly-painted human possessors. Fancy dress wasn't in it. Well, just about if you added the word outrageous to fancy dress.
Soapboxes and humans matched each other for design, style, colour and sheer comedy. Not every carnival needs the sun to shine to be spectacular. Even the karts names reflected colour: Yellow Submarine by the crazy Complete CARnage, Purple Rocket from the South Green Junior School Superheroes, Call Me Violet and even Rusty Tub by the team appropriately titled Sit Down, Shut Up and Hold On!"
Themes were dominant. James Bond - SPECTRE - DAY OF THE DEAD; Hogwarts Express, Lion King, Ghostbusters, Bath Bombers, Bills on Wheels and two from the insect world – Firefly (Sorella Sound) and Bumble Bee (Team Bumble Bee)./.
Wadeyman Again
The schools entered into the spirit. Q-Express from (guess where and who?) Mike Wade's Wadeyman and the Quilters Express. Mike feigned disgust when they were awarded only second place.
The Brightside Bullet was a design triumph for Brightside Junior School and there was a wonderful mediaeval costume touch with Harold, the entry of Colchester Royal Grammar School. Thank you, all schools, for taking part.
"Oooos" and "Aaahs" heralded the ramp appearance of 312 – Ferrari and Maserati Colchester's stunning entry and SEEVIC (South Essex Vintage & Classic Vehicle Club). Case of bye, bye Buttercup, retired now, and enter "The Squirts".
There were nurses and doctors – the Heart Throbs with their Car-diac Arrest entry and Dying to Win (good job the team from Heart Throbs was around) from Team Lambert.
Scouts Ahoy! Remember The Wombles? Did not return last year and now, sadly on the scrap heap as Lee Summerhill put a new venture into play this year. He gathered the Beavers, Scouts and Cubs from. 9th Basildon Kingsdown Scout Group.to share the building and the design and, on the day, we saw their creation: Badge of Honour – proud name, proud team. "It was part of celebrating 100 years of scouting in Essex", said Lee.
For The Disabled
Some entries shared the Rotary case for good causes. We had one very special one this year. REMAP may not ring too many bells for those watching on the day but, prior to them racing their kart down "Thunder Road" , they were told a brief summary of what REMAP represents – a little-known charity that designs "one-off" pieces of equipment to help people with disabilities lead improved and more independent lives. A special entry indeed!
One did not need to be at the bottom of the QE11 field to hear Ken Smith's booming voice and clever wit making the racing jump a central attraction – even before the coloured karts set off and their outrageous entourages flip-flopped, sweated, too-tutted, behind their mad drivers. Just wonderful to watch and listen to. Thanks Ken and company. You were outrageous too!
Cold? No problem. The picnic chairs and hampers still came out in front of the big screen to cheer on their own runners and riders and, come an extended lunch break, to listen to the superb voice of Mabel Rogers, back by popular demand, and the first appearance at the event by Helen Arber Performing Arts Group (HAPA).
Musical Magic
Their musical presentations with lyrics and dance from such shows at the successful Lion King and many others were just musical magic and were greeted with great applause and kind comments from the spectators which will ring in the ears of members, Roger Kettle and Malcolm Acors whose hard work and constant pressure ensured the entertainment worked well. Thank you, Roger and Malcolm. Appreciate the comments below.
"Wonderful addition and attraction. Such a delightful group", Joyce from Billericay ..
"We're having a great lunch and the entertainment is just lovely", Rita, equally a lovely lady and family from Wickford.
"We love listening to Mabel – a true artist", Mary and Jim from Stock
"We love seeing the karts. We think they are even more spectacular than last year. And the racing is thrilling." Irene and family from Hutton.
Newmarket Racing
Not just the locals. A visiting Newmarket Rotarian: "Your club is amazing. I am involved with Rotary and cannot imagine how hard it is to stage such a wonderful family event as this and still raise money for such good charities. We are looking to stage such an event in August in Newmarket. I am here today to watch and learn."
Don't let us just beat our own breasts. From, Peter Owen, a past president and long-time member of The Rotary Club of Mayflower Billericay: "The Soapbox Derby is a wonderful example of what can be achieved by a small but enthusiastic club working for the benefit for the community. As a member of another Rotary club I was proud to see Rotary in action in such a way, an example of sheer enthusiasm at its best. It was great to see the enjoyment of Billericay families relaxing and sharing in the fun at such a well organised event. Congratulations, Billericay Rotarians."
That, I would suggest, sums it up.
By Public Affairs Chairman, Trevor Bond.
100% of ALL Profits raised will go to Local and International Charities supported by Rotary including:

International: Médecins Sans Frontières (Doctors without Borders), Rotary's End Polio Now, Ciamanda Primary School, Kenya

Local: Little Havens Children's Hospice, Essex & Herts Air Ambulance, Local Schools
The Results
Click on the words below to see the respective results