We received this Invitation from our friends in Pirmasens
Dear Pre
sident Jackie Brame, and members of the RC Northampton, it's been a year since we spent some wonderful and eventful days in King's Lynn together with you. The memory to that days is still in all our minds and will be there forever.
The history of our partnership meetings reaches far back, and was never broken in its tradition. Therefore we are very happy to invite you to visit us from May 31st to June 3rd 2018 in Pirmasens. We are looking forward to celebrate our reunion in the circle of the guest families, and all the other friends to deepen and intensify the thought of our partnership. A program for your stay at Pirmasens is in progress at the moment
We hope to welcome you all healthy and lively, and we look forward to seeing as many of you as possible.
Best regards
Karin Fröhlich-Hensel, President RC Pirmasens
Hans-Joachim Schuttpelz, International
21 Visit Bacchanalia
When 21 intrepid Rotarians stepped onto the plane at Heathrow for the biennial meeting with the Rotary Club of Pirmasens, little did they know how much their livers would be tested! It all began when we arrived at Frankfurt airport (late courtesy of BA) to be greeted with sekt and pretzels inside the arrivals hall. This should have been a warning.

After jolly reunions, we were taken by coach to Pirmasens and a welcome at Hotel Kunz – more sekt but eased with tea and cake. The rest of the evening was to be shared individually with our hosts where no doubt the hospitality was well driven in varying quantities by local food and drink. The evening and night were enlivened by the flashing lightning and sonorous thunder.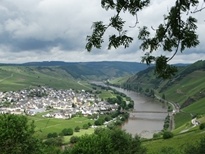 Friday morning saw us all (well most) up and ready at Hotel Kunz for a trip to the Moselle. The weather was not looking good but we set off in good spirits toward Trier on the Luxembourg border. As we first crossed the Moselle, we had to take our hosts' word for it as the low cloud obliterated the view of anything but our own reflections in the coach windows. But when we stopped at a hotel high above a horseshoe bend in the river, the sun came out and we saw beautiful views from the terrace whilst we enjoyed copious tastings of Moselle wines and ate delicious snakes. (A brief word of explan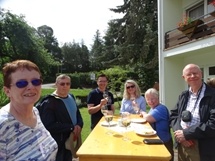 ation – Hans Joachim the Pirmasens leader for the trip mistakenly said we were stopping for drinks and snakes instead of snacks; this became a running joke for the whole weekend)

Suitably refreshed, we continued into Trier just as the rain began falling rather heavily. As nothing stops a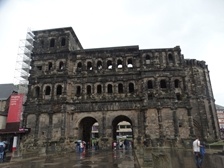 Rotarian, we divided into two groups for a walking tour of the city – one in English and one in German. After pausing to "admire" the 5.5m statue of Karl Marx given by the Chinese, we came to the famous Porta Nigra which was built by the Romans in the second century AD and still stands today even though no mortar was used. It took not much more then four months to build which is less time than it takes to get outline planning permission these days. Next, the market square which contains an extensive selection of different ages and styles of architecture and the adjoining c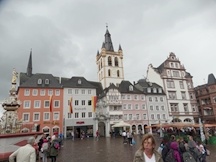 athedral and church with their imposing towers. The cathedral houses the shroud of Jesus which is rarely displayed – not even for us. The Basilica was a most impressive structure but now is quite magnificently stark inside, whilst the rear of the Bishops Palace was incredibly ornate.

We were allowed some free time and this was variously employed having coffee and cake or a bit of shopping.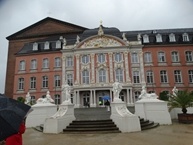 Back to the coach for a quick stop at a high viewpoint overlooking the city and then to the von Nell winery. Here we sampled sekt and were taken on a tour to explain the wine making. We were instructed by Felix Nell, the young son of the present owner (it has been in the family for over 200 years) with interpretation by a young American girl. Then a dinner in the restaurant with wine tastings. I lost count at seven, and that did not include the Riesling soup and the Riesling dessert! The coach was a little quiet for the journey back to Pirmasens.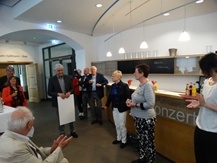 Saturday morning was a little brighter and we met in the AltaPosta (old Post Office) where we began with sekt at 10am! A cheque for €600 was presented by both clubs to the OberBergerMeister (mayor) for a charity which helps children from disadvantaged families. A tour of two exhibitions followed. The first was of Hugo Ball and Dadaism (which left many of us none the wiser!) and rather incongruously included some newsreel of German trench fighting in the First World War. The second was of work by Heinrich Burkel, a well known(?) artist. More sekt preceded a walk through the market to Z1, a bar attached to a brewery where we had a traditional lunch of beer, white sausage, schnitzel, kartoffel salat and pretzel.

The afternoon was free and we all did various things ranging from shopping, swimming, going to France, sleeping – or in our case having tea and kuchen with our hosts' family.

The evening was a Gala Dinner at Hotel Kunz (see the group photo below). Again, the wine flowed alongside a delicious meal curated by Joachim Kunz. There were recitals by a young pianist who was a winner in the local Young Musician competition, and excellent speeches were made by our two presidents. Jackie presented Hans Joachim and Bernd with gifts to thank them for the excellent work they had put in to make the trips so successful. The evening was rounded off in traditional style by Elizabeth Phillips.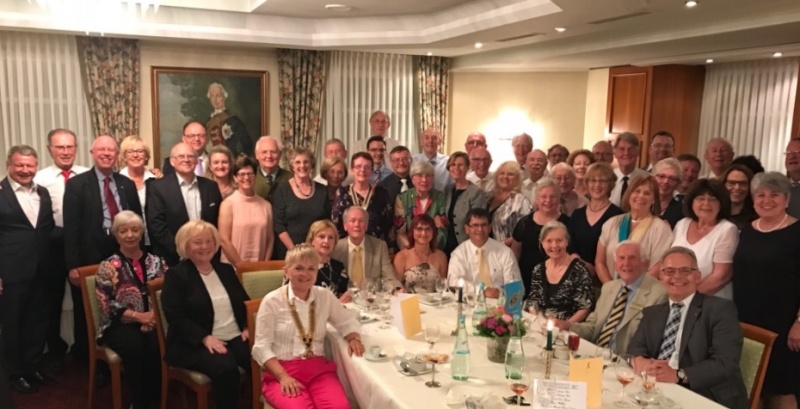 Sunday morning gave some guests the opportunity of a bus tour of Pirmasens, whilst we were taken to Bitche over the border in France to walk around the magnificent citadel high on the hill. It was a beautiful sunny morning and we sat having coffee and brioche watching a stork nesting high on the building opposite.

We all gathered at Hotel Kunz for our farewells and, of course, beer and snakes. Tearful goodbyes and a rendition of Auld Lang Syne saw us on our way back to Frankfurt and our flight home. This was not without incident as my bio passport would not work on the EU machines, but I tried it in the "Third World" machine and it let me through! Chaos then ensued on the plane as misinformation about seating had some of our party occupying wrong seats and the rest of us confused about where to sit. And then we sat on the plane at the gate for an hour awaiting a take-off slot.

We all got back safely and reflected on the tremendous value and fellowship of these twinning visits. The hospitality and welcome from our hosts was tremendous and we could not have asked for more. We look forward to welcoming our Pirmasens friends in 2020 when we shall have a hard act to follow.

Brian May

If you'd like to see a PDF version of a presentation produced by Rotary Pirmasens just Click Here