Dragon Boat races 2017
Running now for seven years and raising money for many local charities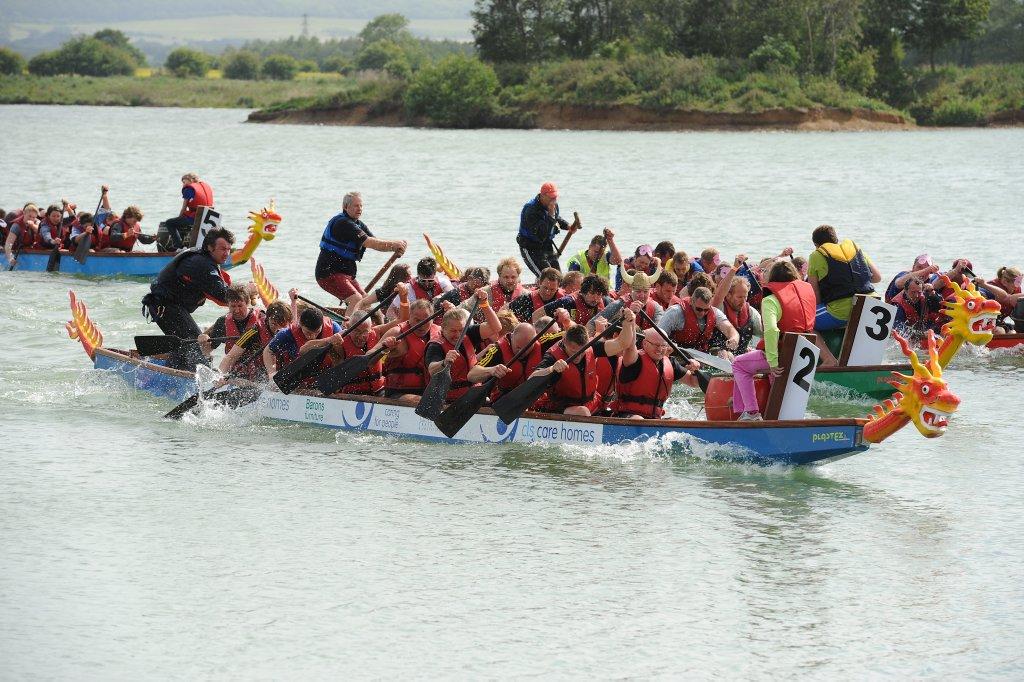 Wind and waves welcome over 1,000 to Wykeham Lakes
A record number of twenty-six sponsored crews competed in testing conditions to produce an exciting days racing. A strong breeze gusting up to twenty knots produced fast times in the heats that took place on a downwind course.
Once the gold and silver divisions had been established utilising the heat times, the semi-finals in each division were very keenly contested with four teams in each division winning through to the Grand Finals.
The Silver division was won by Cirrus Research PLC. In second place were The Barrowcliff Belles, sponsored by The Golfing Cavaliers and third place was taken by those stalwart supporters of the event The Foxy Ladies.
The seriously competitive Gold division produced an exciting final with the winning team Wold Top Brewery. Barons Health sponsored by Harris Shields came second, and Scarborough Rowing Club, sponsored by Taskmaster, entering a crew with an age range from 15 to 50 years, came a very creditable third.
Dragon Boat Events, albeit handicapped as a result of their Race controller & Commentator being admitted to Scarborough Hospital as an emergency in the early hours of race day, managed the on the water activities with their customary skill and care and we are very grateful to Ben Lanyon and his team for all their efforts.
The challenges, successes and tales of "deering do" enjoyed by the paddling teams only become possible because of the many hours of work performed by the Rotary based on shore teams. Great tribute must be paid to the dedication and perseverance they showed to make the event happen. Between January and May the recruitment, marketing and finance teams sign up the sponsors, where necessary assign them to paddler groups and then establish contact with the team Captains: very well done to Lyndsay Chamberlain and her helpers. During this time bookings and contracts are made with shore side facility providers including caterers, entertainers marquee providers and not forgetting the vitally important Loos2 Ewe and the skip. On the day of the event we parked over 500 cars. It was as ever a very smoothly operated task without which there would be no event. Our mini buses safely delivered 1,450 passengers back and forwards from the lakes. Over seven hundred programmes were distributed, if each recipient glanced at just one page they will have gained some knowledge of either a charity we are supporting, an idea of some sponsors activities or what Rotary is about. Prontoprint led by David Mortimer produced an excellent publication. The BBQ run by Jonathan Knight and a group of valiant, dedicated, excellently skilled relatives and friends of the Club made a great contribution to the coffers and the success of the day.
The Dragon Boat Event fulfils three objectives. It provides an excitingly different day for local people of all persuasions who come together in beautiful surroundings to enjoy each other's company and compete in a fun way. It provides an opportunity for participants to help those less fortunate than themselves by raising money for the charities of their choice and our named Club Charities. Last but not least it provides for the Rotarians of the Scarborough Cavaliers the challenges and pleasures of working together on a major worthwhile project to produce a positive outcome. Some of the most important tasks are mundane, least seen and not applauded. Well done to all the folk who took on these duties so willingly.
On Wednesday l8th October we welcomed sponsors, representatives of the paddling teams and our charities who were presented with their cheques by our guest of honour, Her Majesty's Lord Lieutenant of North Yorkshire, Mr Barry Dodd CBE.