News/ A tale of two seasons on the Rotary barge
Rain, sun, kingfishers, trains & fellowship in 2017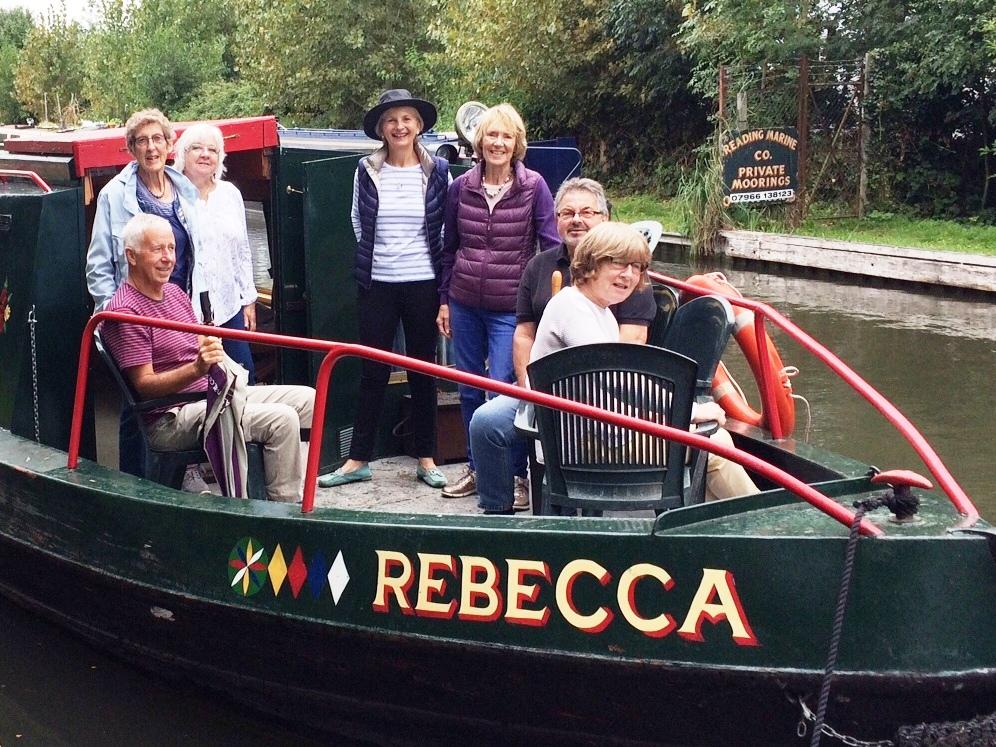 Show related pages
PRESS RELEASE – released 11th September 2017
A TALE OF TWO SEASONS ON THE ROTARY BARGE
The annual Rotary Club of Newbury barge week took place last week giving local community groups the opportunity to have the pleasure of a day out on the beautiful Kennet & Avon canal in one of The Bruce Trust specially adapted barges Rebecca – this year we were delighted to entertain groups from Eight Bells Mental Health, Fairclose Day Centre, It's My Life Advocacy, Kintbury Volunteers, Motor Neurone Group and the MS Society.
Sunday was a very wet day but despite this our guests from Kintbury Volunteers still enjoyed themselves and had 4 kingfisher sightings. A great day was reported on Wednesday with the Eight Bells for Mental Health group benefitting from sunshine, calm weather and good fellowship on the Woolhampton to Newbury stage – the bonus was seeing a vintage Pullman train (brown & yellow livery carriages) hauled by a genuine steam engine (Tornado) in green livery on the GWR mainline around the Midgham area - spectacular! Friday's outing was between Hungerford & Little Bedwyn with Fairclose Day Centre group on board and we experienced the extremes of British weather with persistent rain in the morning and then glorious sunshine in the afternoon. Yet another kingfisher sighting was had plus a glimpse of what appeared to be a test run of a new Class 800 Super Express diesel electric train. The surprise of the day was a fish jumping on to the boat at the skippers feet (it was quickly returned to the canal)
Typical of the guest responses to their trips was the comment from the Motor Neurone Disease group saying "Many thanks to you and all the crew for a fantastic day on Rebecca. Everyone really enjoyed it and the drizzle didn't dampen any spirits"
This is an annual event in Newbury Rotary's Community calendar in which the club uses a specially adapted barge from the Bruce Trust fleet. Rebecca is a specially-designed, purpose-built, wide-beam canal boat which can be used by disabled, disadvantaged or elderly people having wide-access ramps for boarding at the stern deck and a electro hydraulic lift down into the boat. The extra width of the boats provides excellent maneuverability for wheelchair users and they all have special built-in facilities.
Since the late 80's, The Rotary Club of Newbury has utilized one of the Bruce Trust canal boats to take out local charities on day trips as part of their Community programme. To date in excess of 200 day trips have been provided enabling over 2000 charity members to enjoy the tranquility of canal barge travel and our local Kennet Valley scenery. If any local charities are interested in being guests next year they should get in touch.
Eddie Webb, the current Newbury Rotary President, said "This is an event that we in Rotary thoroughly enjoy running and it is a delight to have our local community groups on board with us and to share time with them and give them a good day out and I should add irrespective of the weather."
Rotary are community champions who stand up for our communities both locally and overseas. We support those who need help, we strive to improve lives and we bring about positive change in our neighbourhoods. Every event, initiative or project that we run – whether it is local, national, international or online – is rooted in the notion of community. This is because we believe that society works better when communities work together. If anyone is interested in joining our club, to use your time, talents, professional skills and energy to improving the lives of people in local and international communities, email to: secretary@newburyrotary.org or visit www.newburyrotary.org