Saturday 9th September 2017 saw a great turnout from the local community for the annual Pinner Village Show, held in Pinner Memorial Park.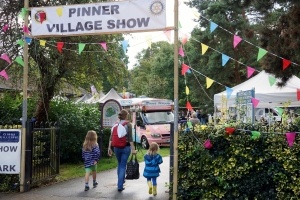 Brief but heavy rain showers in the afternoon didn't dampen spirits, and by the time everything was packed away for another year we all felt it had been a successful and worthwhile event.
Over 50 colourful stalls offered everything from plants to produce to prizes – many of them showcasing the activities of local community organisations or promoting useful services.
Musical entertainment was provided by the Milly Soo Band, Chris Hawley performing music hall songs and the Glen Trew Pipe Band provided a rousing finish. Sadly Punch and Judy had to cancel due to last minute transport problems, but the children's rides were as popular as ever, with the coconut shy, climbing wall and petting farm offering alternative activities for children.
The food court offered pizzas, Indian snacks, burgers and chips, coffee, cakes, ice cream and a bar to keep everyone going while they enjoyed all the activities.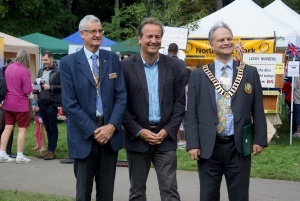 The show was opened by Nick Hurd MP who presented prizes to the school art competition winners. Designs by the children were used for the programme cover and for posters and flyers advertising the show. Nick Hurd then took time out to tour the show before visiting the Heath Robinson Museum.
Our District Governor, Rotarian David Pope, also visited the Show and spoke with many of the stall holders. He commented favourably on both the scale and scope of the event and the good turnout by the public.
For many weeks beforehand, and throughout the show, 'Meal for Two' raffle tickets were on sale. This is one of our main fundraising activities, with 34 prizes of meals at local restaurants, total value up to £1,700. The raffle draw took place at the end of the show with the Mayor of Harrow, Cllr Margaret Davine, picking the winning tickets with the help of our Rotary President, Malcolm Mitchell.
Thanks to the generosity of members of the public, Meal for Two raised over £3,000 for Harrow Carers, our President's charity for this year. The show itself made a profit of over £3,000, mainly from the sale of programmes, programme advertising and donations, which will be split equally between Harrow Carers and other Rotary supported charities.
The Rotary Club of Pinner would like to thank all those who donated prizes or gave their support to this year's show, especially to Gibbs Gillespie for their generous sponsorship and A. F. Litho General Printers for printing the programme.
The 2018 Pinner Village Show is provisionally being planned for Saturday September 8th, further announcements about the show and the application form for potential stall holders will be available on the website after Christmas.
Organising the Village Show is rewarding but time consuming, so we are always grateful to receive offers of help. If you would like to get involved please contact us at villageshow@pinnerrotary.org.uk.