Wadebridge Rotary Club holds two street collections for a Rotary Caribbean Relief Fund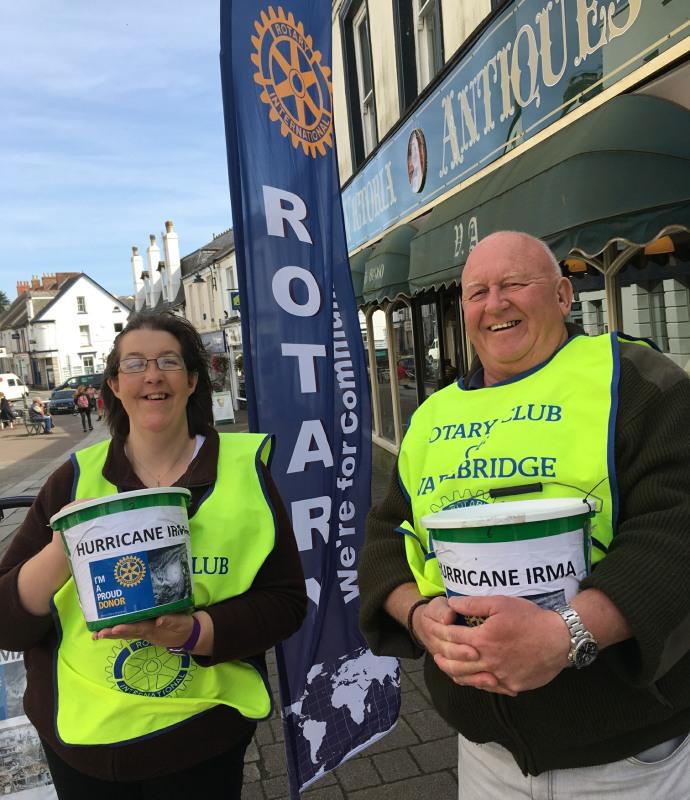 Show related pages
Rotary Hurricane Irma Appeal
Wadebridge Rotary Club hauled out the collecting buckets and flags on two Saturdays in September, raising funds to help alleviate the terrible impact of Hurricane Irma and the follow-up damage caused by Hurricane Maria in much the same area.
On 16th, stalwart Rotarians gathered £390 before severe rain drove them (and pretty much everyone else) off the streets. The following week, in much brighter weather, we put in a full day and collected a further £520. As ever, I am amazed and delighted by the generosity of Wadebridge people.
We were helped by Anne Cleave, who walked by in the morning, asked if she could help and came back for an afternoon collecting session. Thanks to her, and also to Alan Steel from Wadebridge Lions whose accordion playing, sitting on a chair borrowed from The Granary restaurant, enlivened an hour or two during the day for collectors and passers-by alike.
The funds will go to the Rotary North Caribbean (District 7020) Hurricane Irma Disaster Recovery Fund. Eight of the ten countries and territories in the District were affected by Irma.
Report by Kevin Smith