Purple4Polio Campaign
For over 30 years, Rotary and its members have been committed to fighting to eradicate polio across the world.
The amount of polio-endemic countries has dropped from 125 to just three, with over 2.5 billion children receiving vaccinations thanks to the help of Rotary.
With eradication now closer than ever, Rotary International in Great Britain and Ireland's latest campaign, Purple4Polio, is designed to unite communities to engage in activities as part of the final push to eradicate polio for good.
The campaign ties in with the 100 year anniversary of The Rotary Foundation, Rotary's own charity, which has played a key role in making polio eradication become close to a reality, along with hundreds of other projects both in Great Britain and Ireland and overseas.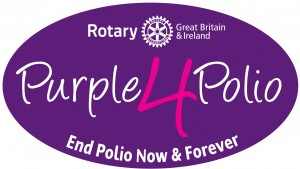 ---
Purple4Polio Crocus Corms Planting 2017
The Purple4Polio crocus corm planting 2016 was a huge success with nearly 7 million purple corms being planted across Great Britain and Ireland resulting in a carpet of purple in communities during spring 2017.
The campaign has produced over 900 pieces of media coverage, helping to raise awareness of how important it is to end polio now and forever.
The purple crocus is a symbol of Rotary's worldwide campaign to eradicate polio, with its colour representing the purple dye used to mark the finger of a child to indicate they have received their life saving oral polio vaccine.
---