Michael Atkin
'A Masterpiece of A-Z'

Michael Atkin, who came to speak to us at the Downe Arms on January 31st is an artist- printmaker who creates etchings, lino prints and wood engravings at his workshop/studio in Scalby. Michael is continually filling sketch books with ideas which he develops into engravings which he can then create prints from. In his workshop are four of his five antique presses from the 19th century, two Albions, a Rochat etching press and an Arab Platen press. They can print from the different formats that Michael uses.
The 64-year-old artist was born and brought up in Middlesbrough but came to Scarborough in the mid-1970s to teach after attending art colleges in his home town and in Maidstone and Liverpool. His teaching career was relatively short-lived, as his reputation as an artist soared. He had already founded his own private press, Bracken Press, to facilitate his work as an etcher, block printer and wood engraver – all three print forms can be seen in the Alphabet. Today, his work can be seen in galleries around the world, and he's an active member of the Fylingdales Group of Artists, Leeds Fine Artists and the Oxford Guild of Printers.
His A to Z of Scarborough is his most personal book yet. "I realised one day that I hadn't done anything on Scarborough for about 30 years," he says. "I liked the idea of doing a series of prints that were naturally limited by their theme – and using the alphabet naturally limited it to 26. Michael showed us his limited-edition book "An Alphabet of Scarborough" with a series of illustrations of Scarborough from A to Z. Only 26 copies of this magnificent book were printed, hard bound in a very traditional manner in green cloth with a leather spine in a splendid presentation box.
All of this, of course, takes time, and lots of it. Michael estimates that the whole exercise took something like 1500 hour! That's reflected in the price – An Alphabet of Scarborough will cost £2,950 for the book and additional print, all packaged in the bespoke Solander box, while a further 25 prints of each image will be available at £185 unframed. But there are plenty of art-lovers out there willing to pay for old-fashioned craftsmanship – a possible 20 copies have already been ordered by keen collectors.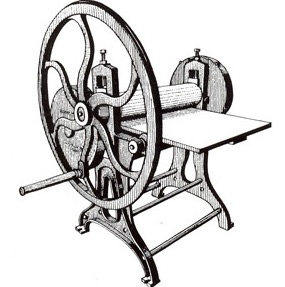 You can visit Michael's Scalby studio and workshop during the annual North Yorkshire Open Studios events which take place on the weekends of June 3 & 4 and 10 & 11. He also runs courses on printmaking – for more information on those, or on the book, visit www.brackenpress.com