Fund raising with CAMRA
At the annual CAMRA Real ale, Cider and Arts festival in October at the Old Parcels Office on the railway station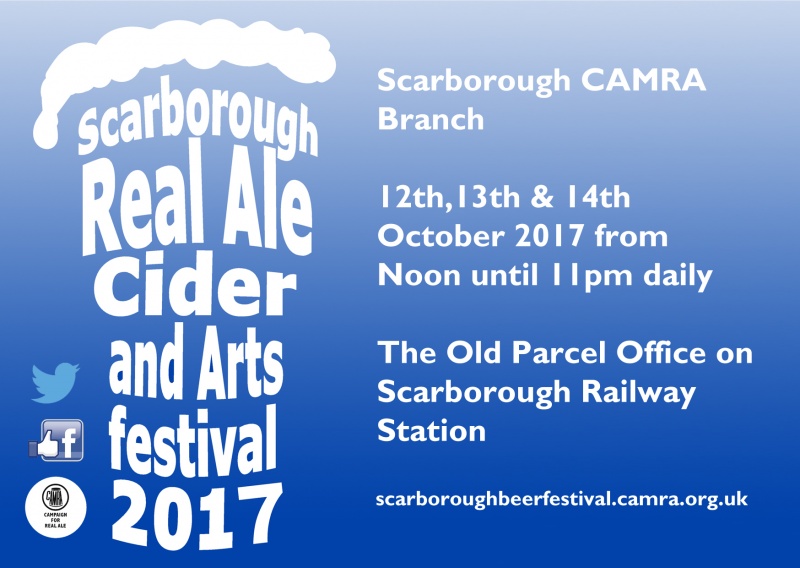 For the second year running we joined in with CAMRA at their beer festival in the Old Parcel Office at Scarborough Station. They were pleased with the event which attracted beer afficionados from far and wide.
Our job, as before, was to run the Bar Games and Tombola Stall There were over 200 prizes on the tombola including whisky, champagne, wines, beers, chocolates and toiletries as well as gift tokens and vouchers kindly donated by local businesses (as per the poster reproduced above).
Our first customer at the beer festival tombola was , Peter Cooper who came to talk to us recently about his involvement as part of a volunteer group to restore the 1883 listed railway building and convert it to artists' studios. He had obviously come to make sure that the CAMRA crew looked after his building? .
The busiest time was Friday night when a flurry of excited beer drinkers visited the stall later on. There was another special train came in this year which brought in a number of people from Huddersfield. The event in now firmly in real ale and cider drinkers calendars.
CAMRA (from unused beer tokens) and Rotary together raised just over £1,000 in the three days which was split between Yorkshire Air Ambulance (nominated by CAMRA) Basics Plus and Rainbow Centre.
In the "Name the Bear Competition" there was a different bear each day with names chosen by lot. Thursday was Toby, Friday was Dopey, and Saturday was Cuddles. Lyndsay was spotted in town the next day by the lady who won "Cudd|es' and is now known by as "The Teddy Bear Lady".