Eastbourne AM is committed to helping worthwhile causes in Eastbourne, in the UK and around the world. Through strong friendships and a desire to get involved, we search out new projects to support, promote and enhance. We specialise in helping small locally focused projects over a long term both at home and overseas. This enables members to really see the differences their input makes.
We have some major projects that we support annually such as Breakaway, Tree of Light and The Lighthouse Walk and more details of these events can be viewed by going to their respective pages on the website.
Macmillan Coffee morning at Brewers in September 2017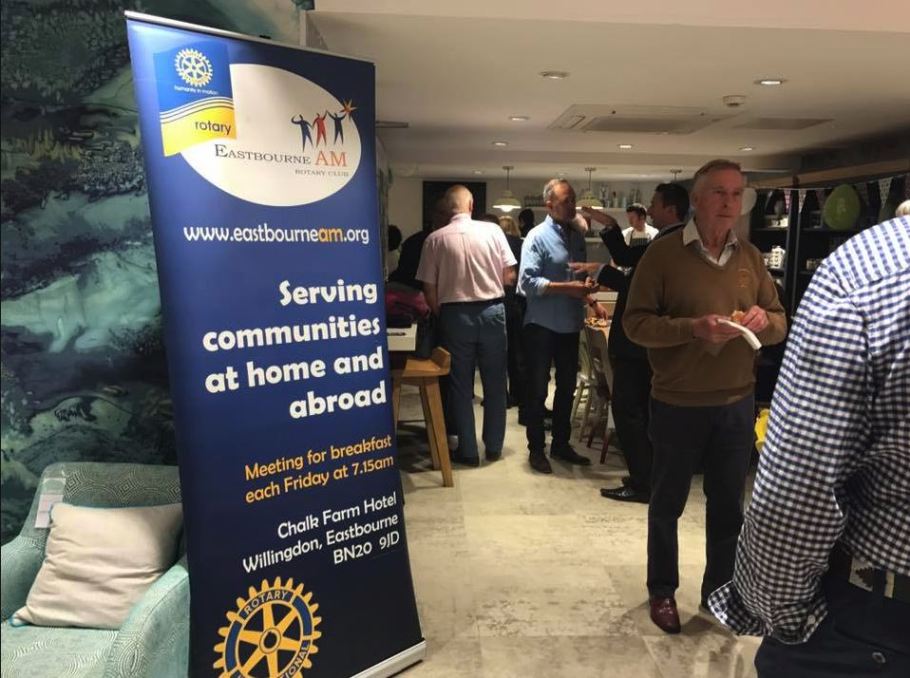 A sum well in excess of £500 was raised at Brewers for the national very worthy cause which we were happy to embrace and be involved with.
ESK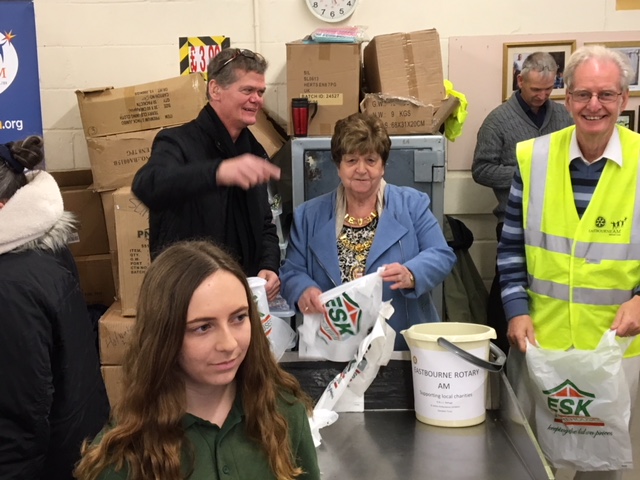 On 18th November we bag packed at ESK raising an incredible amount of £532.82 all of which goes into our Charity account to be distributed amongst various local worthy causes. An enjoyable fun event.
SASBAH Christmas Party
This was held at Bede's School on Friday 8th December. This was not a fund raising event but we catered for approximately 50 young adults providing them with burgers, sausages, chips, beans, friend onions, salad and desserts. This a charity which our Club supports through Breakaway and we are always happy to be involved with the Christmas party and it is always a thoroughly enjoyable occasion.
Santa's Sleigh
On Tuesday 19th December we had the opportunity from Hailsham Rotary to man the Santa Sleigh at Tescos with two members sharing the role of Father Christmas and supported by club members. A fun event with carols playing throughout and it was good to work and support another local Rotary club where we enjoy a good relationship. We await to hear the funds raised from this event and Chris Brenchley and David Barker who has a good relationship with Hailsham Rotary will be attending their Club for the presentation of the cheque on Tuesday 30th January.
Refuge Hampers
Rom took ownership, very kindly, and responsibility for purchasing and filling seasonal hampers for the current residents of "Refuge". This is a very worthy cause of which the Club has embraced for many years and we are happy to support ladies and their families at what can be a very difficult and emotional time of the year for them. (Rom has photographs of this event)
Win a Car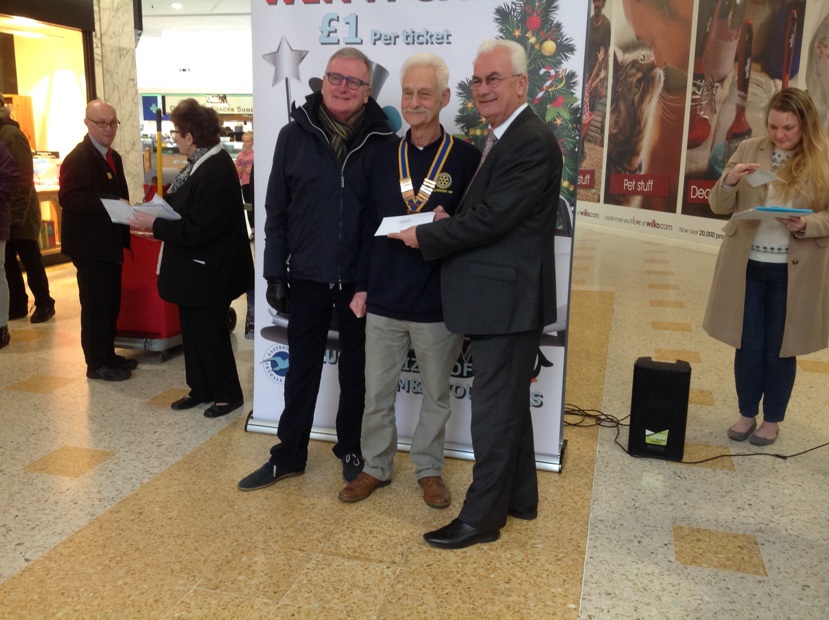 We then had the Win a Car in the Arndale selling raffle tickets raising a sum of £374 from this event all of which will go into our charity funds.
April 2018
We then have the opportunity to have a day at Bates Farm, Arlington as part of the annual bluebell event. We raised a sum in excess of £1,000 in April 2017 and hopefully we can look to raise a similar sum this year. This is where we provide all the manpower for the day needing cover of 12 at any one time to man the gates, meet and greet, prepare and serve homemade food and wait on tables. The food consists of soup, ploughmans, quiches, sandwiches, cakes, afternoon teas all of which is homemade. A big commitment for the Club but a very worthwhile event and it is good to support a local cause.