Rotary is dedicated to six areas of focus to build international relationships, improve lives and create a better world to support our peace efforts and end polio forever.
Promoting peace: We train adultsand young leaders to prevent and mediate conflict and help refugees who have fled dangerous areas.
Fighting disease: We educate and equip communities to stop the spread of life-threatening diseases like polio, HIV/AIDS, and malaria. We improve and expand access to low-cost and free health care in developing areas.
Providing clean water, sanitation and hygiene: We support local solutions to bring clean water, sanitation, and hygiene to more people every day. We don't just build wells and walk away. We share our expertise with community leaders and educators to make sure our projects succeed long-term.
Saving mothers and children: Nearly 6 million children under the age of five die each year because of malnutrition, poor health care, and inadequate sanitation. We expand access to quality care, so mothers and their children can live and grow stronger.
Supporting education: More than 775 million people over the age of 15 are illiterate. Our goal is to strengthen the capacity of communities to support basic education and literacy, reduce gender disparity in education, and increase adult literacy.
Growing local economies: We carry out service projects that enhance economic and community development and create opportunities for decent and productive work for young and old.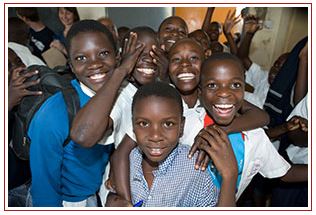 At 'AM' we are very proud to support the Quicken Trust, and have now done so for many years. This has enabled us to sponsor local children through their education until securing employment to help support their local families & village.
Quicken Trust is a Sussex-based charity which is transforming the lives of people living in poverty in the Ugandan village of Kabubbu. It works in partnership with a range of organisations around the UK and worldwide.
We have helped fund the construction of a Well for drinking water and Club members have been fortunate to visit Kabubbu to see the issues faced by the local community for themselves.
Quicken is proof that small can be beautiful! The Trust is led by its founder, Geoff Booker, and his wife, Geraldine, who is Director of Development, but it has hundreds of supporters and volunteers including nearly 550 who sponsor in Kabubbu.
Further information can be found at www.quickentrust.com.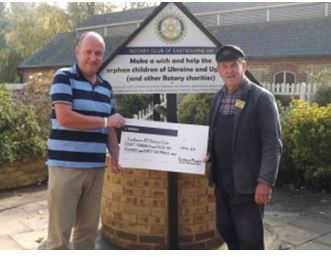 We also provide regular support to ICC Missions, with the help of former AM members Mike and Rachel Wadey.
The couple own the Eastbourne Miniature Steam Railway and each year visitors to this popular tourist attraction in Lottbridge Drive are able to make a donation via a Wishing Well.
The money is split 50:50 between the Quicken Trust and ICC Missions, which works to make life better for people in the Ukraine.
Owner Mike Wadey said, 'We are delighted to work with our friends at Eastbourne AM each year, and are very grateful to our very generous customers who donate the coins'.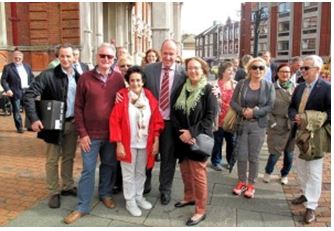 We are also delighted to have formed a partnership with a German Rotary club based in Pirmasens. This has already resulted in visits to/from our respective clubs, including a Youth Exchange & we are currently looking at further opportunities for joint projects.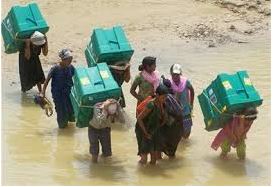 Rotary is also closely involved with ShelterBox, an international disaster relief charity that provides temporary shelter and life saving supplies to displaced families. The charity was founded in 2000 in the town of Helston, Cornwall, UK.
Each ShelterBox typically contains a tent designed to withstand extreme weather conditions, water purification kit, blankets, tools, and other necessities to help a family survive after a disaster. The contents of a ShelterBox are tailored to the nature and location of the disaster.
ShelterBox Response Teams distribute boxes on the ground, working closely with local organisations, international aid agencies and Rotary Clubs worldwide.
The latest ShelterBox funded by our Club was sent to the Caribbean in response to HurricanesIrma and Maria in 2017.