Young Chef Competition
Mon 15th January 2018 at 2.00 pm - 5.00 pm
Two young people competed in our competition.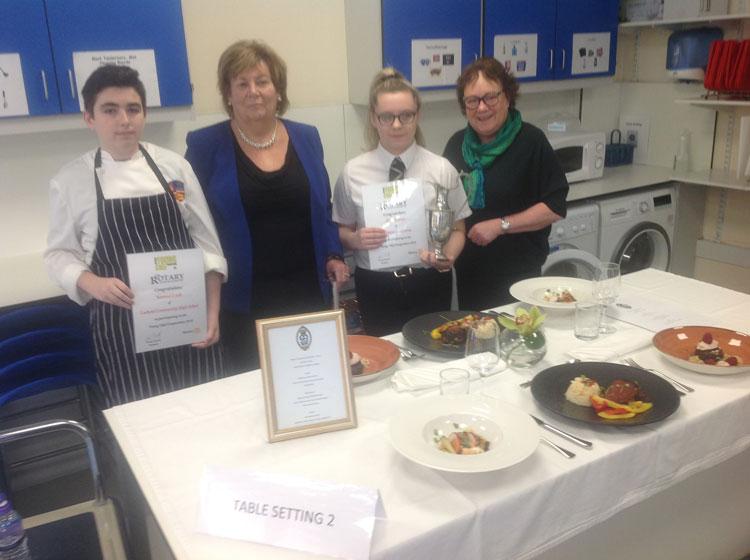 On Monday 15 January our Club heat for Young Chef was held at The High School of Glasgow.
Past Presidents Bill Christie and Morag McIntosh represented the Club.
The event had been promoted on behalf of our Club by Gary Condie (Principal Officer of Glasgow City Council Employment & Skills Partnership Team; Education Services). This was the first time that we had partnered with GCC for Young Chef and despite the lateness of the introduction and a number of withdrawals because of prelims we had two highly talented participants. There was not much to choose between the two.
Tabitha Steven from the HSOG and The Rotary GB&I 2017 winner of Young Chef met the participants
Winner : Abby Tonner from St Mungo's Academy.
Runner Up : Samuel Lusk, Lochend Community High School.
Abby will represent the Club at the District Final on 24 January.
Photograph. Taken beside Abby's 3 course meal.
Left to Right
Samuel Lusk. Adjudicator, Mrs Janice Landels, Abby Tonner. PP Morag McIntosh.
GCC are keen to promote the 2018/19 event given that there was considerable interest from Schools but insufficient time on this occasion.
Bill Christie
Convenor Youth Committee