On his visit DG Nick Sillitoe motivates us all with news of the Rotary Wood, membership trends and international charity.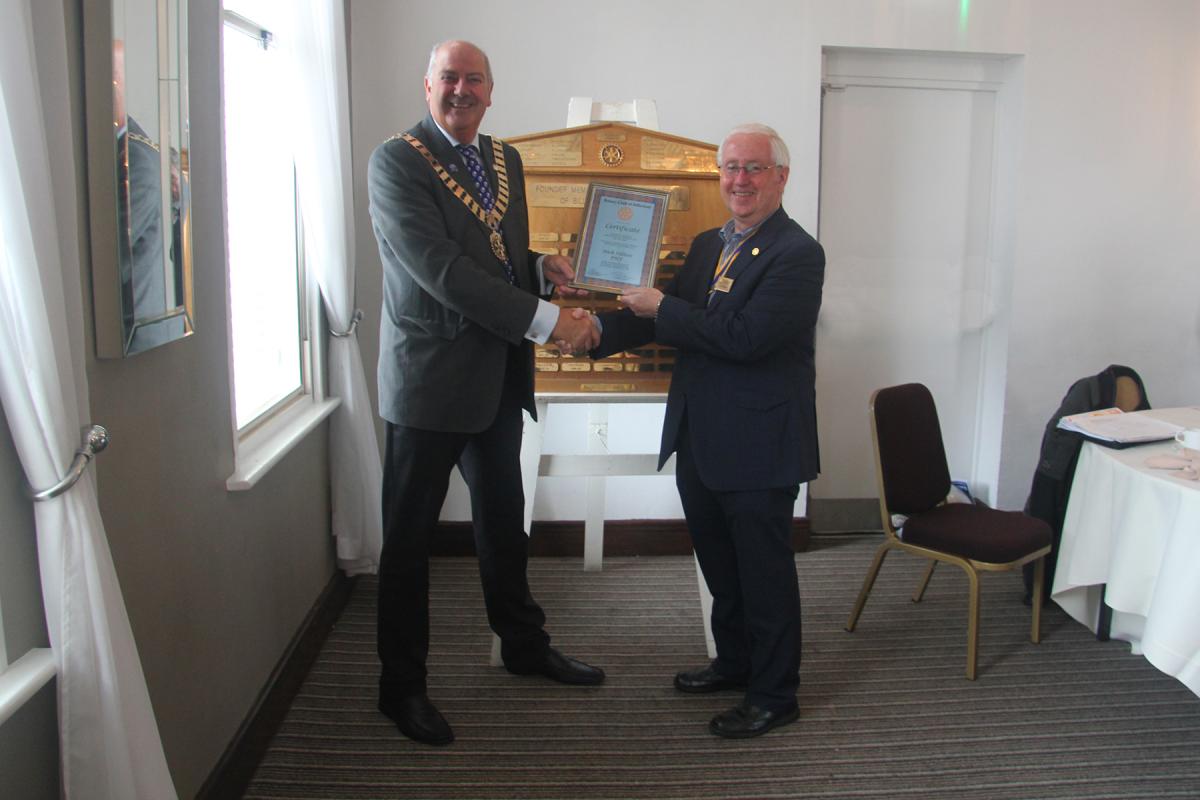 Show related pages
Plant a Tree for Rotary
And other motivational thoughts from our District Governor

Like Martin Luther King, District Governor Nick Sillitoe has a dream – more than one in fact. He wants to raise Rotary membership to a new level and he wants to plant a wood. Well, not exactly plant it personally but to see it grow as a testimonial to Rotary.
Addressing us at lunch on September 4, Nick punched home the key points he sees in his term of office – Membership, Humanitarian Aid and Ecology, and Rotary's Public Image.
Membership: "When I began my term, I aimed to increase membership by the end of it. I recently helped celebrate Clacton-on-Sea's new charter – that was twenty new members in one day. Encouraging!"
Developing that theme, he said: "The average age of Rotarians in the UK is 74, compared to 40-50 in other parts of the world. Too high. Most members do not join Rotary until they are sixty plus – we need younger blood. Which is why I am encouraging satellite clubs to attract younger people. They may not meet the normal Rotary regulations but their members can still contribute to Rotary.
"Canvey, Bishop's Stortford and Hornchurch have already established one. My own club, Mayflower is sponsoring one. It is a road to go down."
He praised the efforts made by the two Billericay clubs. "We are leading the field in staging major Rotary events such as your SoapBox Derby – a thrilling addition to the local community."
Humanitarian Aid: "BuildAid which provides water and sanitation and my own pet project, Mercy Ships, are examples. I recently saw Mercy Ships at work in Grand Canaria. Their staff of 400 are all volunteers, an international crew helping with such operations as cataracts, growth development and much else. They will leave a legacy of a land rover and a technical team in countries desperate for such aid."
A Rotary Wood

Ecology: "I want every club in the district to agree to plant a tree to create a Rotary Wood. Probably at Hyde Hall who, along with the Woodland Trust would support such a scheme. It would be a lasting memorial to Rotary's work in our district."
Public Image: " Three out of ten people I talk to do not know what Rotary is, let alone what it stands for. We need to change that. To let people know what we do, that we are making a difference and how we change lives.
"Between us, the two Billericay clubs have raised over £100,000 in a year. How many people know that? We have to keep finding ways to deliver the message."
Our club wanted to recognise Nick's achievement in being only the third DG from Billericay and presented Nick with a framed certificate as a record.
The citation read:

To mark his election as District Governor of District 1240 for 2017-2018.
Presented on behalf of the members of the Rotary Club
of Billericay to
Nick Sillitoe PHF
on the occasion of his visit to
the Rotary Club of Billericay on
Monday, September 4, 2017.