2018 Lostwithial Carnival Week
Sun 22nd July 2018 at 12.00 pm - Sat 28th July 2018 - 10.30 pm
A week of merriment and sport from 22nd - 28th July 2018 that everyone can enjoy, with Charity Fete Day, Its a Knockout, Raft Races, Rounders, Cricket, Pram Race, Concert, Street Party, Duck Race, Live Music, Football and Carnival Procession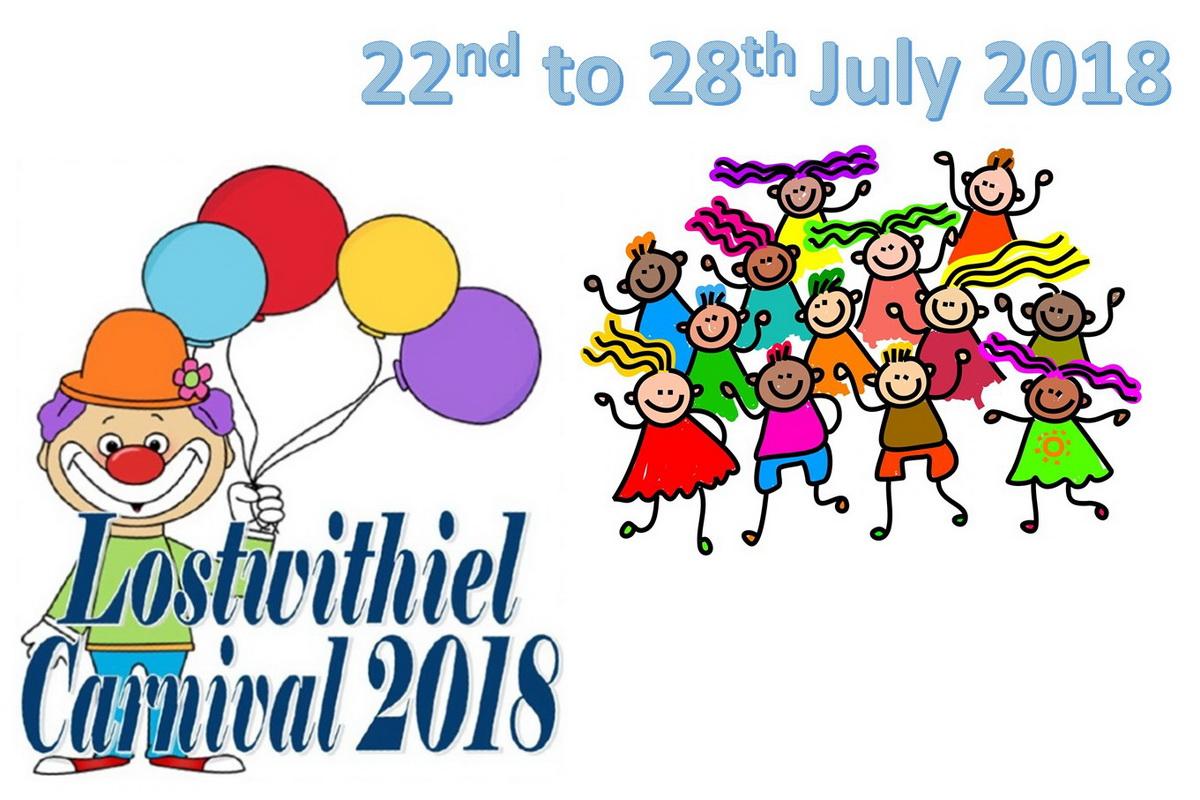 Lostwithiel Carnival 2018
Sunday 22nd July 2018 to Saturday 28th July 2018
One of Cornwall's best little carnivals
The Rotary Club of Lostwithiel is proud to announce the programme of events taking place in this year's Town Carnival. Full details may be found in the Carnival Programme, which will be delivered free of charge to each and every household within Lostwithiel during the fortnight leading up to carnival.
Carnival Road Closures
A number of road closures will be in force during the week, in particular on Wednesday 25th for the Pram Race, on Thursday 26th for Street Party and on Saturday 28th for the Carnival Procession. We apologise for any inconvenience this will cause for residents, but the closures are necessary in order for the events to go ahead.
Please click here to see a summary of the road closures.
Sunday 22nd July

On the King George V Playing Field from 12:00 noon

Saniflo Services Charity Fayre Day

Rotarian in Charge:
Anthony Berry, 07834 560473
regatta@lostwithielrotary.co.uk

Charity Stall Coordinator:
David Dunkley, 07798 894970

Fun and games for all the family with: charity stalls, It's a Knockout, Cornish Wrestling, laser shooting, children's games, Fire Service demonstration, emergency services museum display, Blood Bikes, Cornish Search & Rescue and a possible land-on by the Cornwal Air Ambulance helicopter! There will also be a barbecue, bar and cream teas.

The programme for the afternoon is as follows:

12:00noon Gates and charity stalls open - come on in and have a look around
12:30pm Flora dance
1:00pm Kids games
2:15pm Junior raft race
3:00pm It's a Knockout heats
3:30pm Fire demonstation on KGV field
4:00pm It's a Knockout final
5:00pm Close

The Raft Race entry form and rules may be downloaded here

The It's a Knockout entry form may be downloaded here

In addition, there will be Cornish Wrestling throughout the afternoon, courtesy of the Cornish Wrestling Association. The highlight of the afternoon will be the Lightweight Championship of Cornwall tournament, but there will also be open and novice competitions, with junior classes from under 10 years to under 18 years. A Lightweight class for the Lostwithiel Regatta Cup will also take place. Entrants may register from 1:00pm.
Monday 23rd July

On the King George V Playing Field from 5:30pm


Carpet Gallet Rounders Tournament

Organised by Lostwithiel School Association

Main Organiser:
Vicky Brown, 07971 278080
lostwithielsa@gmail.com

Rotarian Assistant:
Neil Hugo, 01726 891539
rounders@lostwithielrotary.co.uk

The rounders tournament will be a round robin, so every team will play every other team, leading to a final match to determine the overall winner and the runners up in each section. A bar and barbecue will be available. The tournament start times are:

5.30pm: Juniors (12 years and under)
6.45pm: Open Class

Entry forms should be returned to Penhaligon's or emailed to lostwithielsa@gmail.com by Friday 20th July, although late entries may be accepted on the night entirely at the discretion of the organisers.
Tuesday 24th July

On the King George V Playing Field from 5:30pm


Best Western Fowey Valley Six-a-side Cricket Competition

Organised by Boconnoc Cricket Club

Main Organiser:
Rob Trump, 01726 65476

Rotarian Assistant:
Richard Hanson, 07985 304152
cricket@lostwithielrotary.co.uk

Boconnoc Cricket Club (established 1846) is Lostwithiel's local cricket club and competes in Divisions 2 East, (1st XI) and 6 East, (2nd XI) of the Cornwall Cricket League. Home matches take place every Saturday during the summer months at the Deer Park, Boconnoc Estate. There are occasional Sunday, weekday and evening friendly fixtures throughout the season.

The club promotes an active coaching and playing policy and welcomes new players and spectators of all ages. Net practice takes place on Tuesday evening at 6.30pm so if you would like more information, either drop in at the ground or contact Rob Trump (01726 65476) or John Niblett (01579 228149). Alternatively come along to spectate whilst enjoying a drink in the clubhouse where bar facilities are available after 6pm on match days.
Wednesday 25th July

Starting on Parade Square from 6:15pm


Country Fryer Pram Race

Rotarian in Charge:
Stephen Lay, 07768 403088
pramrace@lostwithielrotary.co.uk

Supported by:
Graham Rule, 07920 227238

We call on kids, adults and senior citizens, indeed anybody and everybody, to enter the Country Fryer Pram Race. Anyone can form a team of four, including sports teams, social clubs and groups of friends. Hopefully, you will all dress in riotous outfits and race your home-made wacky "prams" through the streets of Lostwithiel to compete for the most prestigious of awards on the World Pram Racing circuit – the 2018 Country Fryer Pram Race Accolade!

It is no exaggeration to say that the requirements of our insurers had put this year's event in jeopardy. The Rotary Club has paid a significant additional premium so that this popular event can continue. Consequently we are having to impose new and strict rules which participants must comply with so that everybody can have a fun filled and safe event.

Teams should consist of four persons, one of whom must be in the pram and wearing a helmet at all times. There should be a minimum of four wheels on each pram and Rotary Stewards will be checking that the construction is safe. Starting and finishing on Parade Square, the route will be the same as last year.

The Pram Race route may be downloaded here

There will be three races starting from Parade Square: under 12 years old (starting at 6:15pm) , under 18 years old (approx. 6:30pm) and adults (approx. 6:45pm). In each category there will be prizes for the winning teams and best fancy dress (prizes again thanks to the Country Fryer). To be sure of taking part, your completed entry form, with parental consent where appropriate, must be returned to Fran's Pantry or Penhaligon's Newsagents by 4:00pm on Tuesday 24th July.

The Pram Race entry form and rules may be downloaded here

We look forward to the usual terrific turnout of spectators and participants, and we are sure you will all have a great time.
Wednesday 25th July

In St Bartholomew's Church from 8:00pm


The Royal Oak Band and Choir Concert

Rotarian in Charge:
Geoffrey Phipps, 01208 871470
concert@lostwithielrotary.co.uk


Featuring Lostwithiel Town Band and Wadebridge Male Voice Choir

Welcome to our ever popular Band and Choir Concert which again features our own Town Band under their Musical Director Norman Pendray. There is a change of choir this year with a welcome return of the Wadebridge Male Voice Choir with their Musical Director Paul Mitchell. The Concert will again be compered by our Rector, the Reverend Paul Beynon. As always, the seats are free, but not bookable, so arrive early for the best seats in the house.

We are grateful to our sponsors, the Royal Oak, with special sponsorship from Rotarian John Brumby in memory of his wife, Joy. Also, don't forget the apré concert, hosted by the Royal Oak, so come along for a most enjoyable sing-a-long.
Thursday 26th July

On the Parade from 4:00pm

The Kings Arms Street Party

Rotarian in Charge:
Alan Terry, 07830 331810
streetparty@lostwithielrotary.co.uk

Proposed order of Events:

F4:00pm: Chloe the Clown 'Gather Round' Balloon modelling.
5:00pm: Chloe the Clown Magic Show on stage with silly wands and a real-life rabbit.
5:45pm: Senior Raft Races start in Coulson Park.
6:30pm: Jules the Comedy Ventriloquist.
7:30pm: Annual Charity Duck Race.

The Raft Race entry form and rules may be downloaded here

Music will be provided by our very own Paul Harold and there will also be a Bouncy Castle, Face Painting, Barbecue, Hog Roast and Milk Shakes.

Later, there will be live music from Monkey Fag Break and a bar provided by the Kings Arms.
Friday 27th July

On the King George V Playing Field from 4:15pm

The Phil Smith Memorial Five-a-Side Football Competition

Sponsored by the Barber Shop

Organised by Lostwithiel Football Club

Main Organiser:
Nathan Gough, 07399 462679

Rotarian Assistant:
Denis Mitchell, 07876 741119
football@lostwithielrotary.co.uk

Youth matches start at 4:15pm

Adult matches start at 5:30pm

The Five-a-Side Football entry form and rules may be downloaded here
Saturday 28th July

On the King George V Playing Field from 5:00pm, setting off at 6:00pm and finishing on the Parade

The Kings Arms Carnival Procession

Prizes donated by Lostwithiel Bingo Fundraisers

Rotarian in Charge:
Ian Hurst, 07855 383720
procession@lostwithielrotary.co.uk

We have changed the format of the carnival procession for this year. There will now be five themed classes:

Films
Brexit
News
Soaps
Motorised Vehicles

All motorised vehicles must submit their insurance details to Ann's Gallery by 11am on 21st July. Unfortunately, vehicles will not be allowed into the carnival procession if we don't have completed certificates back by then.

The Carnival Procession Motor Vehicle Certificate may be downloaded here

All procession entrants must be on the field by 5:00pm and be ready for judging at 5:15pm. Prizes will be awarded before the procession moves off at 6:00pm (prizes for each class: 1st £20, 2nd £15, 3rd £10).


The procession route has also been changed. Starting from KGV, the procession will follow Liddicoat Road (A390) to Fore Street, go down around the Parade, across the bridge, over the level crossing and on towards Cott Road, where the procession will halt and about turn. It will then return back over the bridge, along North Street, left into Church Lane, down Fore Street and finish on the Parade.

The entertainment will continue on the Parade from 8:00pm with music from Idle Hands and, of course, refreshments! The evening, and carnival week as a whole, will conclude sometime after 10:00pm with a firework display that will launch from the King George V Playing Field.
Disclaimer
Participants must assume liability for any injury or harm they cause or receive and should cover such risks by their own insurance arrangements. Insurance cover is not provided by the Rotary Club of Lostwithiel or any of our partner organisers in respect of any injury whilst participating in the events of Carnival Week.