Buy Tickets 2019
Join the Fun! Enjoy the Thrills, the Spills, the Atmosphere! Join the Party and buy tickets to the 2019 Rotary Club of Billericay Soapbox Derby.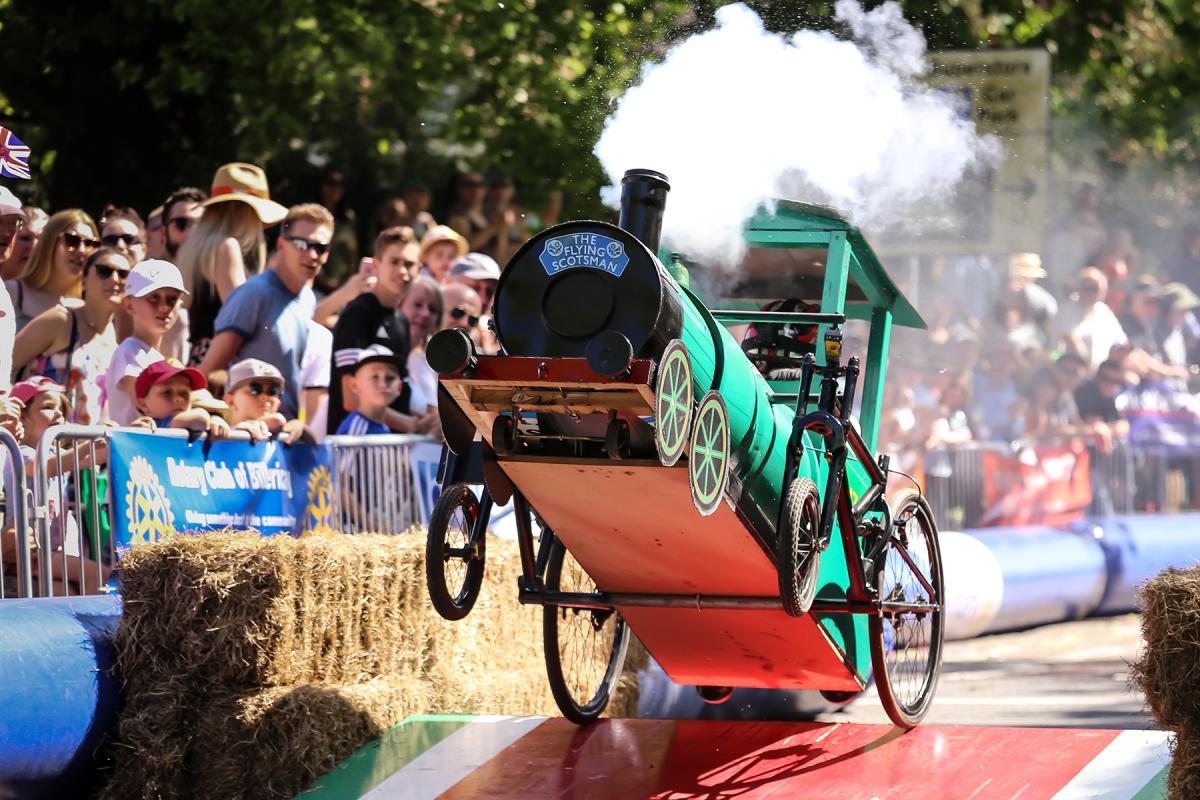 Let's Go!
Gates open 09.00
Hurry Up – Numbers will be limited on the day.
FAMILY TICKETS MUST BE BOUGHT IN ADVANCE - NO FAMILY TICKETS AVAILABLE AFTER 6 P.M. MAY 5, 2019.


Pricing
Super Saver Price - Prices unchanged since 2016. No longer available after 6 p.m. March 4, 2019.
Advance Saver Price - After 6 p.m. March 4 until 6.00 p.m. on Sunday May 5, 2019.
Individual Tickets - Cost £4.00 per person

Family Tickets for a family of two adults and 2 children (Aged 3-17 inclusive) - Cost £14.00 per family
On-Line Price - after 6.00 p.m. Sunday May 5, 2019
Individual Tickets available only at £5.00 per person (Children under 3 are free) to be consistent with prices at the Gate.
Gate Price - On the Day
Individual Tickets available only at £5.00 per person (Children under 3 are free).
On-line Ordering
Buy your tickets now - click on the button below to buy your tickets on-line:

All Saver prices end at 6.00 pm on Sunday May 5. After that time, the gate ticket price for Individuals - £5 per person - is the only ticket available.
On-Line Tickets
There is a transaction fee of £1.50 per transaction to cover the entire cost of the service including all internet hosting costs, payment gateway charges, and a UK based call centre – the ticketing company is not taking any profit. (Costs are per transaction or order, not per ticket, so why not order for your friends too in the same transaction.)
Tickets can be printed in your home or posted to you.
Physical Tickets
Paper tickets will be on sale at some local businesses from December, and at the Christmas Market - there are no Fees - every business has agreed to waive all costs for this charity event.
We will be selling tickets and answering queries at our stand in Billericay High Street in April and May prior to the event.
100% of ALL Profits raised will go to Local and International Charities supported by Rotary including:

International: Médecins Sans Frontières (Doctors without Borders), Rotary's End Polio Now, Ciamanda Primary School, Kenya

Local: Little Havens Children's Hospice, Essex & Herts Air Ambulance, Local Schools


---
Privacy and Confidentiality
Rotary Club of Billericay promise to respect the confidentiality of any personal data you share with us, when you enter a soapbox or buy tickets to the Rotary Club of Billericay Soapbox Derby, including information that we have access to through the third party purchase processes.
We will only use this information to ensure the success and the effective operation of the Soapbox Derby, during the preparation of which, we may need to send information to you about the forthcoming event which we need to share with you. For this purpose we maintain a mailing list comprising your names and email addresses, and if you are a competitor, your telephone number(s) and postal address. We take your privacy very seriously and our "Privacy Policy" is published on our website and accessible directly from our Home Page at www.billericayrotary.org using the Privacy Policy and Accessibility link at the foot of that page.
Once the event is over and all activities related to it have been completed, we will delete all such information except that necessary to allow us to inform you when the next event will take place, and relevant information about it, so that you have the opportunity to attend the event again.