Absolutely Fabulous - The Praise Pours In

After months of hard work, the Soapbox Derby returned to Billericay in May 2018. A fantastic success for the club - the weight of unsolicited positive comments on Facebook, Twitter and email, and direct approaches by the public, was again overwhelming with about 10,000 spectators - significantly more than in 2017 and raising over £32,000 for charity!
Here is the video of the event created by the BBC: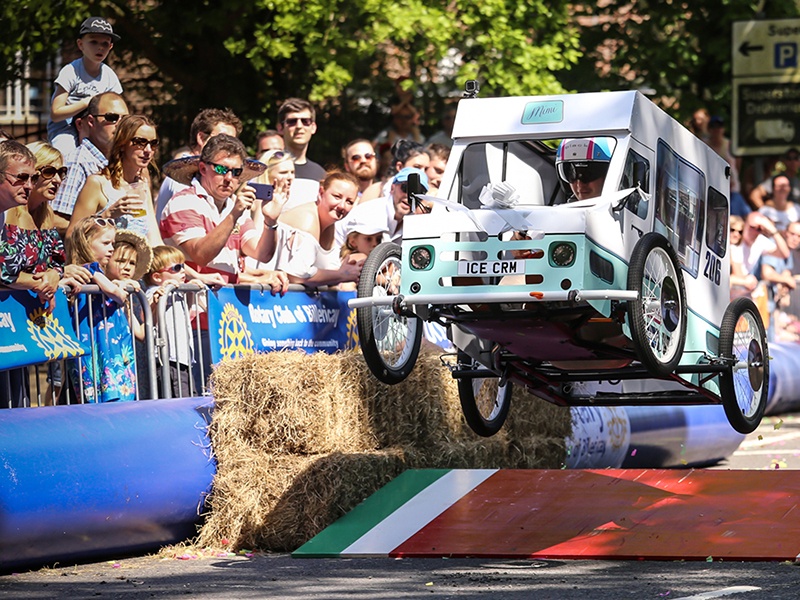 (Picture by Peter Mitchelmore)
It was FAB

FAB! That's a wonderful word to describe a truly spectacular event, our third Soapbox Derby – a family day to remember.
It's not our word – comes from a better source than us. No less than the staff and pupils of Buttsbury Infants School who entered a team in the students category for the first time.
Buttsbury Buddy Bear may not have won any prizes but the praise was fulsome. I quote Mel Shelley and Kate Burcombe of the school's Parents Association:
"On behalf of Buttsbury Infants team and all the children and supporters we'd like to say a huge thank-you for organising the event. It was FAB!
"We know how much work goes in and it is greatly appreciated. What a sense of community and a great social event while raising money for such good causes."
Beat that, as they say, and thank you Buttsbury for summing up the whole reason why we Rotarians are proud and privileged to run it. All the negotiating, overcoming of obstacles and, on the day – such a long, long day – seeing an idea three years ago, bear recognition and satisfaction.

Carnival And Heatwave
We wanted a carnival. We got a carnival. We also prayed for fine weather. We got a heatwave as Him up there overstretched his hand to satisfy us. Thank you, Lord, but perhaps a little cooler next year.
Yes, it was hot, yes, the sun cream – Nivea, Avon, Dove, you name it – was applied over exposed limbs, red faces, water bottles were the need of the day (not many drinking hot coffee) and the hot-food outlets admitted sales down on last year.
"Fewer people want fish and chips and hot dogs in this weather," one outlet told me. On that score, the beer tent did a roaring trade and the ice-cream sellers must have thought their Christmas had come early. Lick, lick and back for another one!
Bottles of water had to be sent regularly out to the marshals and the gatekeepers who did a magnificent job while trying to keep cool. Two years ago we had to visit Waitrose for more loo rolls. No problem this year but one of volunteers battled there to lug back four cases of water. She was welcomed like Stanley meeting Livingstone in the jungle!

They Came in Torrents
By the time the gates opened at nine, the site was set, the track was ready for practice and the multi-coloured and highly-designed karts were in the pits.
At first, a trickle of people. By 9.30 a crowd. By 10.30 a torrent. In they came, on foot, in wheelchairs – we had established disabled access and track viewing – on crutches and even on zimmer frames. But they came – eventually in their thousands.
The elderly, the teenagers, the families – toddlers in sensible hats and bonnets – all finding space to set out their chairs, the parasols and sunshades and tents and their blankets on the ground. In front of the huge video screen.
They came dressed in shorts and T-shirts – and just some, little else.
There were brown legs, pink legs and white legs – just like the Neapolitan ice-creams they rushed to buy., No doubt white had turned to pink by five o' clock, Brown stays brown.
The big screen – what an innovation it has proved. Bit like getting a seat in the cinema stalls with ice cream and pop-corn – well, certainly ice cream.

Make Mine Vanilla!
There was even ice cream dispensed at the starting ramp when the derby stalwarts from Roll Out The Bunting came again... "greater details this year, "they said beforehand. Sad about the result but thanks for the ices fellahs. And the Buttsbury Rotakids raised £45 for Great Ormand Street Hospital with their enterprising Ice Cream Game stall. Everybody chipped in – no pun intended!
They came back to us, the kart stalwarts, second time, third time and how we welcomed the new teams – brilliant designs, superb colours – true carnival.
OK, Killer Heels won the Wacky category again. That makes three in a row and the podium two-finger challenge - "beat that". They are the wonder team which makes it all so challenging and thrilling.
What great created names:-.Creaky Blinders, Trojan Rabbit (aka Monty Python's Holy Grail), Black Pearl , Flying Scotsman – the press just jumped on that (metaphorically!), Happy Feet, Complete Carnage, Flintstones – loved the fun outfit guys - and many more – what great entries.
And the (unrecognised) prize for not only the winner of the students category must be Tootin CARmoon: Rachael's Really Rapid Road Racing Regyptians for the longest named entry in three years. I make that 54 letters - Correct me if I'm wrong.

Sorry Mike – Too Much Sausage
Mike Wade, headteacher at Quilters Junior school, all in fun, drove as Superman variant – Wadeyman in the Q-Express. Finished behind his Wadey Bear opponent.
Conversation in the Race Control tent: Mike to the brilliant Billericay School pupil Daniel Lang; who did an incredible job on the race control and results despite being bombarded with timings and updates .
"I am educating this young lad. Expected him to fiddle the figures for his headmaster. Obviously, I did not pay him enough."
Editor to Mike: Think it was the large hot-dog full of mustard and ketchup before racing that might have lost you those extra seconds."
Mike to Editor: "OK : Next year back to light breakfast – we will return and I shall eat less."
Flinstones Fred and Barney and rocky wives, captured the imaginations of everyone who walked the pits.
One lady told me: "What a clever design. They deserve to win something." They did: Best Constuction.

Champers Comes Later
I walked the field, chatted to entrants and families. Two lovely ladies from Billericay had set up their picnic table - and were sipping from fluted glasses.
"Champagne already? "I asked. "Not yet darling. Just water. Champers comes later when the real party starts." Start it did. The party had grown and there was some wicked dancing taking place – hardly "Strictly" but all great fun.
How well the innovations went. I wandered around the children's area. Kids leaping up and down on the trampoline, "riding" the tractor and the imaginary cars – and telling me: "This is great fun." We had made something new work.
And what a magnificent students entry. From local Quilters, Buttsbury, and South Green junior schools to Colchester Royal Grammar School (made the prize list). Brilliant support.
Pauline Mills from Wickford Rotary admitted: "I was very naughty. The club didn't know I was entering them. What a great event. They have forgiven me!"
So, it went on and on. The race control tent never stopped as more and more of our young Billericay School supporters did an incredible job in racing back with timings and information. Young, eager, positive, delightful – how lucky we are to have them.
Lunch break came early due to the unfortunate accident to one driver – ambulance immediately on hand as the road was cleared to rush him to Basildon Hospital. The risk factor always applies despite our strict scrutineering. We wish him a speedy recovery and are glad he is back home - albeit heavily strapped up!

Party Prizes
It had to come to an end. A day exhausting for everyone involved in making it what it was – another Soapbox Derby spectacular.
Some stayed for the prizegiving. Ken Smith, who had done his brilliant race starter work on the ramp (with half-time change-over with Graham) kept it going with his wit and wisdom. Two showmen. We love you, Ken. And, District Governor Elect Lesley Sulley, who had been on-site working before 06.00, stayed on to give the prizes and thank everyone for a fabulous event.
Podium winners giggled and hugged. And we had a re-run when Round Table missed the first photo call. Just another laugh all round. The Winners list appears on our website.
The people eventually drifted out but not before dropping into one tent or another to say: "What a wonderful day. Great community event – please do it again."
We will try...
By Public Affairs Chairman, Trevor Bond.