Pinner Village Show gets bigger and better!
This year's show took place on Saturday September 8th in Pinner Memorial Park. Earlier forecasts of rain proved to be wrong and we even saw some blue sky and sunshine. The support from the people of Pinner and surrounding areas was fantastic, making this a most enjoyable and successful community event.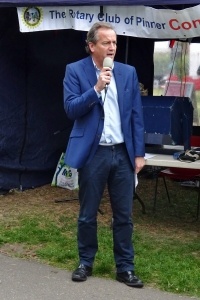 Nick Hurd MP declared the show open before touring the 50 plus stalls selling crafts and artisan goods, promoting local organisations, and offering activities and games.
The food court was busy all day with new stalls selling French crêpes and 'Tastes of the Mediterranean' adding to the variety of food on offer. Thanks to the capricious weather coffee and ice cream were in equal demand and we nearly ran out of beer.
The petting farm in its new location near the children's playground proved very popular, along with the fairground rides, the trampoline and slide, the Scouts' climbing wall and the ride-on model steam train. Even the ever-popular fire engine was able to put in an appearance.
Punch & Judy drew impressive crowds demonstrating the enduring popularity of these colourful puppets, while the classic rock band Simply Gray had the parents tapping their feet and singing along. Argosy Players gave us a taster of their next production and 1st Steps Linedance had everyone on their feet joining in a routine. A somewhat reduced group of Glen Trew Pipers successfully produced a rousing finish to the entertainment program.
The Show raised over £4,500 from the sale of programmes, programme advertising and donations, this will be split equally between our President's charities, Alzheimer's Research and local support groups, and other Rotary supported charities.
The Meal for Two raffle raised a further £2,600 from ticket sales in advance of the Show and on the day – this will go to Alzheimer's Research and local support groups. The draw for the 26 prizes of meals at local restaurants was performed by the Mayor of Harrow, Cllr Kareema Marikar.
An event of this magnitude could not take place without a lot of support from our sponsors, friends and fellow Rotarians.
Pinner Rotary would like to thank all those who donated prizes, Gibbs Gillespie for their generous sponsorship and to A. F. Litho General Printers for printing the programme.
Also a special thanks to our District Governor Gillian Pearce, our Assistant District Governor Brian Jonson and members of Elthorne-Hillingdon, Uxbridge and Harrow Rotary Clubs who all turned out in force to help us on the day.