District Forum 21 March 2020
Sat 21st March 2020 at 9.30 am - 12.30 pm
DUE TO CORONAVIRUS, THIS EVENT WILL NOW BE HELD ONLINE. CONTACT YOUR CLUB SECRETARY FOR MORE INFORMATION.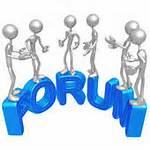 District 1200 FORUM to be held at https://zoom.us/*****
AGENDA
10.00 Welcome and District Business from DG Dennis Stevens
· District Accounts
· District Budget
· Awards
10.10 District Conference 2020 – Rory O'Donnell (video)
10.15 Young Carers - Alison Adlam - Chair of Friends of Somerset Young Carers
10.30 Parish Notices
10.40. The Frome Town approach to membership – Karl Waldeck
10.55. Ken Robertshaw – our Foundation
11:30. Foundation discussion with David Perkins, Keith Barnard-Jones, Stan Jones & Ken Robertshaw
11:50. Membership with Rick Canham, Michael Osborne and Karl Waldeck
12:10. Presidents Elect with Rory O'Donnell
12:30. Close.
---
Post Meeting Notes:
The meeting was attended by 86 Rotarians representing 33 of our 48 clubs in our District.
District Accounts for the year ended 30 June 2019 and Budgets for the year 2020-21.
After some discusion the accounts and budget were approved by those attending, plus a further 3 clubs who approved them by emaill prior to the meeting.