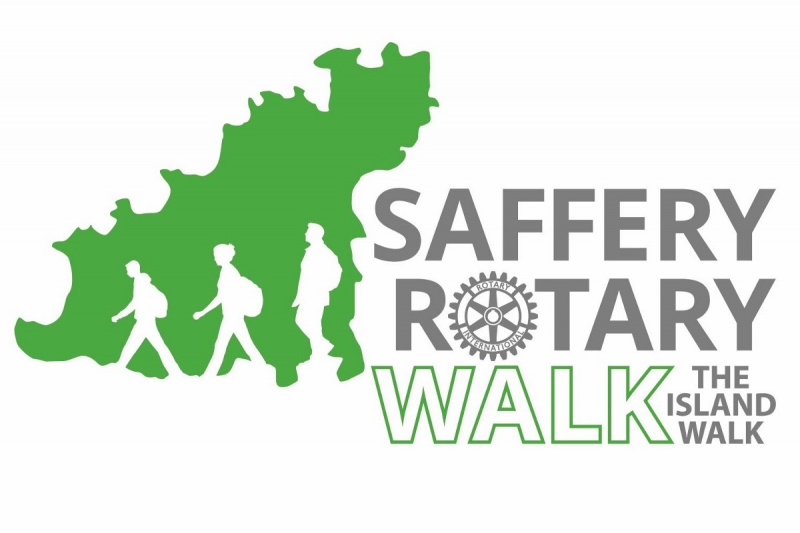 More than 700 people took part in the 21st Saffery Rotary Walk, including 21 relay teams. 20 local community projects will receive a share of £61,000 this year.
Lieutenant Governor Vice Admiral Sir Ian Corder also went the extra mile by not only completing the Walk's full distance but also by becoming its patron.
Rotarian Simon Milsted, chair of the Walk's organising committee said, "This year was the 21st round-island walk and every year it seems to get more and more support. We're thrilled that His Excellency has accepted the position of Patron. He has undertaken to complete the challenge each year he is in office and now he is Patron there can be no better endorsement of the fundraising efforts of all the participants. It's been another hugely successful walk and we hope this event continues to be embraced for another 21 years."
The funds raised were presented to the walk's chosen charities at a special presentation evening at Government House. The presentations began with a drinks reception with Island FM's Richard Harding acting as MC.
Simon Milsted acknowledged a number of individual walkers in recognition of their specific achievements and cheques were presented to this year's selected charities by HE Sir Ian Corder.
Eight year old Clara Ginnis won the award for the youngest walker to complete the route while Charles Denton won the veteran walker award.
Matthew Barrett won the award for the most individual sponsorship raised and the Royal Court relay team took home the award for most money raised by a relay team for the second year in a row.
The Sir Peter Walker Award for Special Achievement, named in memory of the late Lieutenant Governor Air Marshal Sir Peter Walker, was presented to Karen Blanchford who was instrumental in opening the walk up to Guernsey's disabled. This initiative has been incorporated as part of the last two Saffery Rotary Walks.
Emma Atkinson was the winner of the "Saffery Selfie "competition for her fantastic photos of 'Eddie the Teddy' completing this year's Walk. Eddie is the Duke of Edinburgh mascot and, along with Emma, completed four legs of the walk as part of two relay teams.
Over the walk's 21 years it has seen 7,000 participants take part, and over £740,000 has been raised for local causes.
Mr Milsted said: "The money raised by the walkers this year will make such a difference to so many people. The presentation evening is a highlight of the year when we can hand over all the donations to the 20 charities and know that the money will be going towards helping the island.
"A tremendous amount of work goes into making sure the event runs smoothly for all walkers, volunteers, spectators and the sponsors. I'd like to thank all the dedicated, motivated and inspired people who have made the walk so successful and of course Saffery Champness for their support and continued commitment."
Lisa Vizia, director at Saffery Champness and member of the organising committee, said: "We are extremely proud to sponsor one of Guernsey's largest annual charity fundraising events. It's always an inspiring day and it was great to see so many walkers taking on the challenge this year. We look forward to doing it all again next year."
The next Saffery Rotary Walk takes place Saturday, 15 June 2019. Applications will soon open for local charities to apply for funding for next year's event. Details will be issued shortly and submissions can be made by any locally registered charity which is in need of financial support for a specific project or initiative. For further information please email info@safferyrotarywalk.com.
Rotary members from Clubs throughout the UK will be made most welcome if they wish to join in the Saffery Rotary Round Island Walk next year either as an individual walker or as part of a club relay team. Details can be found on our website - please click HERE.