Crathes Vintage Car & Motorcycle Rally
Sun 26th May 2019 at 10.00 - 16.30
A magnificent assembly of pristine vehicles on the banks of the Dee at Crathes.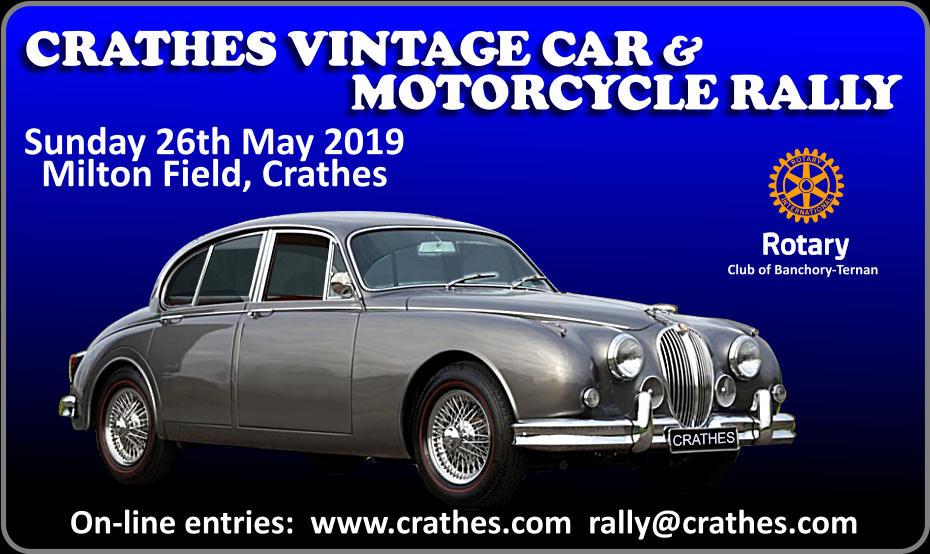 Main Sponsor - Bancon Homes
The first outing of the year for many owners of special cars. Attended by around 300 gleaming vehicles from vintage to classic, ordinary to exotic, this event is a day out for motoring enthusiasts, petrol-heads and families.
The day begins at 10.00 with road-run from Crathes to Torphins and then back via Inchmarlo. The rest of the day is a leisurely event with music, good food and a display of all the vehicles. There are plenty of things to keep the whole family happy with bouncy castle, children's rides, trade stands, the nearby Deeside Railway, Milton of Crathes craft village, The Milton Restaurant and the grounds of Crathes Castle all within easy walking distance.
At around 3.30pm the results of the expert panel of judges are announced and there are trophies for the lucky winners. After the prize-giving, the winning entries are invited to drive up to the front of Crathes Castle where there is a photo-opportunity.
As in past years, we are raising funds for local charities.
Classes for which Trophies (winner & runner-up) will be awarded.
1. Cars up to end 1939
2. Cars 1940 - 1959

3. Cars 1960 - 1969

4. Cars 1970 - 1979
5. Cars 1980 - 1995

6. Cars 1996 - present

7. American Autos

8. Motorcycles up to end 1969

9. Motorcycles 1970 - present
Vehicles under 5yrs old will not be judged. Late entries (not in programme) will also not be judged. Please note that entry to the Road Run will be open to cars only and will be restricted to the first 30 applicants who wish to participate. These will be allocated on arrival at the rally prior to departure at 10.00H on the day.
This year we are featuring a display of modern electric cars - one of each model. If you own an electric car or know someone who might like to enter. Please do so by clicking HERE:
Further information from (click on name to send an e-mail):
Chairman: Stewart Park
Rally Secretary: Neil Booth
Trade Stands: Andrew McIlraith
Advertising & PR: Eddie Gillanders
With the exception of electric cars, we regret that we cannot accept any further entries either now or on the day of the rally. However there will be some limited parking in compounds reserved for classic vehicles.