Membership/ Paul Harris Fellowship awarded to Chris Bedford
At the Club's Charter Night Dinner on 18th March 2019, Rotarian Chris Bedford was awarded the Paul Harris Fellowship for his outstanding work with those suffering from mental illness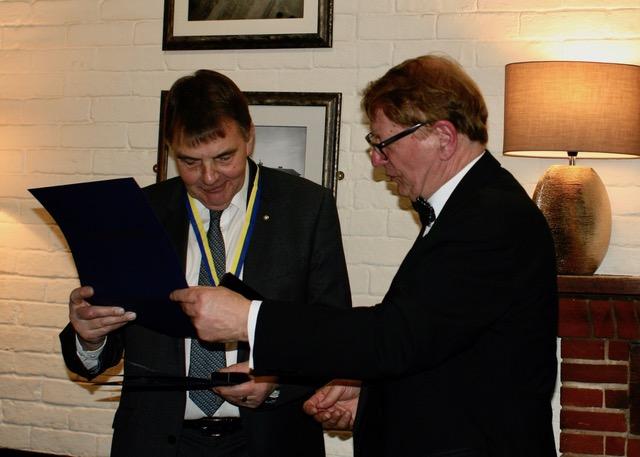 Rotarian Chris Bedford, a very active member of this club since 1995, has been awarded a Paul Harris Fellowship for his outstanding work in support of those suffering with mental illness. The award was presented by President Mike Slocombe to Chris at the Club's Charter Night Dinner on 18th March.
The citation, read by Seymour Baker, highlighted the work done by Chris as Trustee and Vice-Chairman of Woking Mind between 2012 and 2018. Chris introduced new concepts and processes for a more efficient operation of the Charity as well as securing a large amount of additional funding. However perhaps Chris' greatest achievement came from his work with local schools and colleges, in raising awareness of mental health issues and the support that children suffering from such problems could get from Woking Mind.
Chris expressed his complete surprise at being given the award, his thanks to the club for making the award and his huge gratitude to his wife Caroline for her support.