Feb 24th, lunch - Mairead will talk about her life as a journalist.
Mon 24th February 2020 at 12.00 pm - 2.00 pm
Mairead is married to Ribblesdale Rotarian Nick Mahon. There are some quotes below.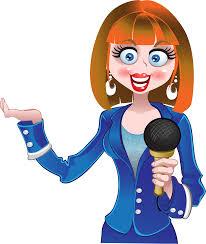 The dumbest question I was ever asked by a sports reporter was whether I hit harder with red or white gloves. As a matter of fact, I hit harder with red.
Frank Crawford
I daren't take a holiday. If I stop writing my column for a month it might affect the circulation of the newspaper - or it might not.
Arthur Brisbane
I get up in the morning with an idea for a three-volume novel and by nightfall, it's a paragraph in my column.
Don Marquis
Sorry the article's late. Someone was using the pencil.
Dorothy Parker
The conscience of an editor is purely decorative.
Oscar Wilde
An editor is a person employed on a newspaper, whose business it is to separate the wheat from the chaff, and to see that the chaff is printed.
Elbert Hubbard
Rock journalism is people who can't write interviewing people who can't talk for people who can't read.
Frank Zappa
Everything you read in the newspapers is absolutely true, except for that rare story of which you happen to have first-hand knowledge, which is absolutely false.
Erwin Knoll
You should always believe all you read in the newspapers, as this makes them more interesting.
Rose Macaulay
I like The Times. It's not too rough on the buttocks.
Owen Newitt, The Vicar of Dibley
A journalist is somebody who possesses himself of a fantasy and lures the truth towards it.
Arnold Welker