Old cars to Africa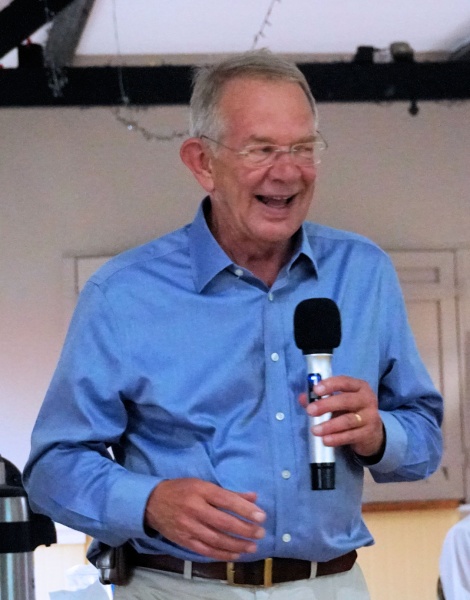 Our speaker for the evening of 24th July was Tim Mowatt, a friend of one of our members. Tim had worked for a major part of his career as a fundraiser for the Seamans' Mission. Being part of the charity sector, oddities from that part of the world's rules and regulations were often topics of conversation.
One of Tim's colleagues discovered that any motor vehicles imported into the Gambia were subject to the same customs duty as that model would attract if new, but there was an exception to this: any vehicle driven there and abandoned fell outside the regulations. Tim's colleague knew of a school that was desperately in need of a minibus and fancied trying to drive one to the Gambia and abandon it, so giving the school a minibus that would not attract duty. Always up for a challenge, Tim agreed to give it a go.
Some research revealed that there was an organisation that supported such ventures as motorsport so long as the vehicle was purchased for less than £200. Other investigation revealed that the best vehicles to donate to this part of Africa were German, as these spares were easiest to obtain.
The first step was to buy a VW Transporter from Europe via ebay. This ensured a left hand dive model. Having ensured that it was mechanically sound and the spares had ben acquired for any foreseeable problems, the Transporter was fitted with new good quality tyres. Experience of others had shown that the drive from Britain would use a complete set of tyres.
The route took them through France and Spain, crossing into Africa at Gibraltar. From there they had to drive through Morocco, Western Sahara, Mauritania and Senegal, before reaching their destination country of the Gambia. Much of this route is deserted and can be subject to bandits, so the motorsport organisation recommended travelling in groups of three. This had been organised and there pictures of overnight stops at the side if dirt roads I the middle of nowhere.
Apart from a few administrative problems at the Senegal border, all went smoothly and they delivered the VW Transporter to the school amid swarms of excited and delighted children.
Mission complete, the grateful Headmaster said to Tim, "Mr Tim, next time you come, can you bring me a Mercedes?" Having enjoyed the first trip, Tim and his colleague did no more than repeat the process with a Merc!
One final, but interesting point, having driven there, how do you get home? Booking flights from the UK is only possible if you buy a return ticket. Tim discovered that there are quite a few charter flights that fly with empty seats. Enquiry at the point of departure often reveals the odd available seat at a bargain price, so that is what he did. No choice about the European destination, but back in Europe. In the event he found a flight to Gatwick on both occasions.