Oct 2019 Cambridge VI Form Peace Debate Competition
Wed 9th October 2019 at 16.00 - 19.30
OPEN TO THE PUBLIC - refreshments available, good parking. ENJOY THE THOUGHTFUL ARGUMENTS & TRICKY QUESTIONS !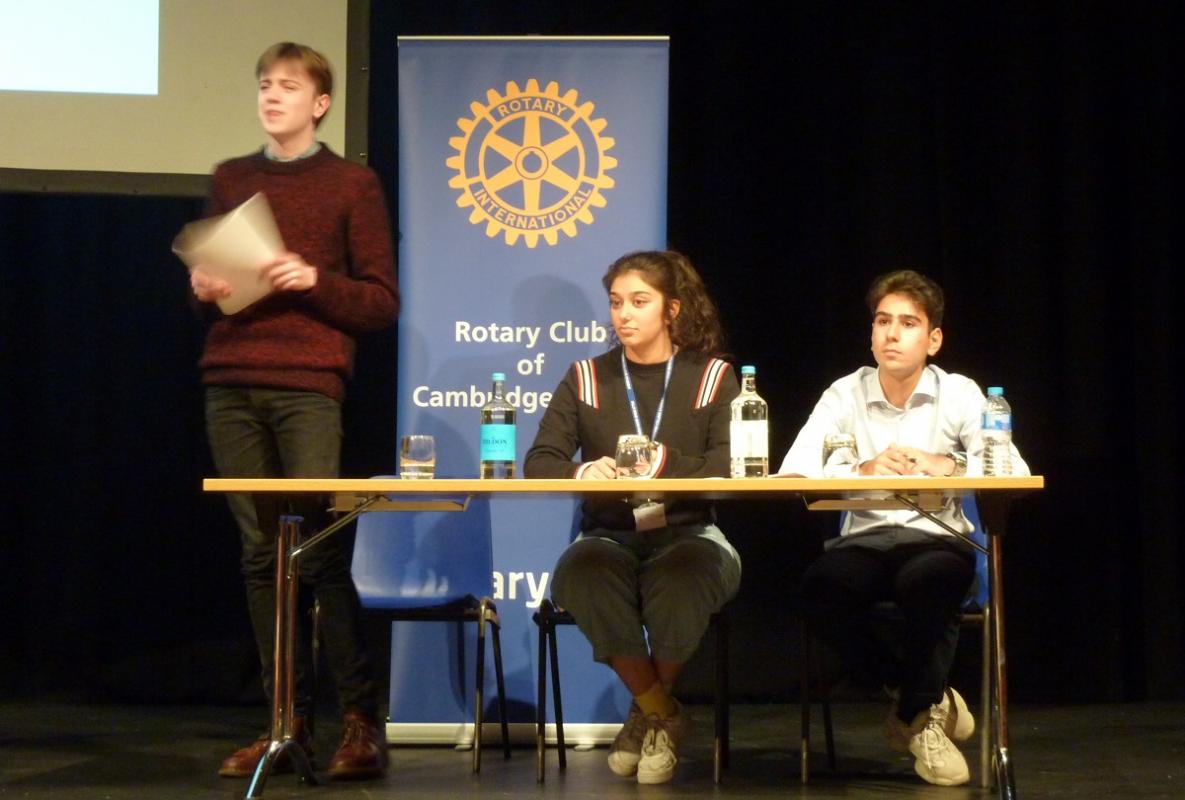 WHICH TEAM WILL TRIUMPH THIS TIME ?
The Annual Debate will be held at the Leys School Main Hall, Cambridge City.
Arrive in good time - look out for the large Rotary banners to lead you to the parking area and Debating chamber - entrance off the Fen Causeway open from 3.45pm.
The Topics - Two Motions this year :
"This house believes that the World will become more peaceful when dominated
by two Super Powers."
"This house believes that ideological differences between countries will spark
the next World War."
The Teams - Impington Village College vs The Leys School and The Stephen Perse School vs Parkside School.
Judges - Our Judges Jan Little and Sian Nash are joined this year by our visiting Peace Scholar Elaheh Pooyandeh.
During the Judges discussion time we are delighted to welcome Will McInerney to speak to us.
"The importance of young people's voices in promoting peace - a view from a Rotary Peace fellow"
He is a Gates Cambridge Scholar, Rotary Global Global Scholar, and Ph.D. student at the University of Cambridge, Queens' College and his research explores the nexus of critical masculinities, creative expression, and conflict transformation. His work, research, and poetry have been featured in media outlets, at universities, and on stages across the U.S. and around the world. He is a Rotary Peace Fellow Alumni, Beacon of Light Award-winner, National Poetry Slam Finalist, Southern Poetry Slam Champion, and Institute for Economics and Peace Ambassador.
Will's talk will be about his personal and professional journey as a peacebuilder: 1) founding and leading an arts and peace education non-profit, 2) covering peace and conflict as a journalist in the Middle East and North Africa, and 3) working on gender equality and violence prevention with young men in the U.S. and the U.K.
Institute for Economics and Peace Ambassador
Host of Stories with a Heartbeat - Listen on NPR // WUNC // iTunes
8pm Rotarians and Guests are invited to gather for a Dinner after the event at Browns Restaurant.
Book with John H.
Organised and sponsored by the Cambridge South Rotary Club.