Young Chef heat
Sat 28th September 2019 at 10.00 - 13.00
Four senior schools in the Aireborough area have the chance to take part in Rotary's National Young Chef competition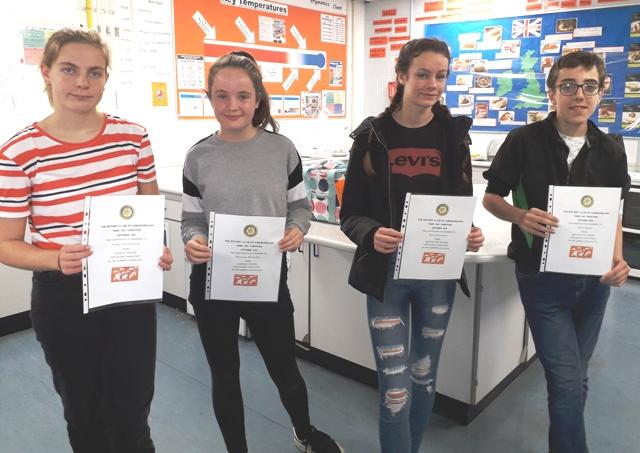 The Rotary Club of Aireborough held its local heat for the National Young Chef competition at Guiseley School . With competitors invited from all four senior schools in the area a strong competition was expected and the young people who took part did not disappoint.
The competition required entrants to cook and present a three course meal for two people within an overall budget of £20 (paid by the Club) and within a time limit of two hours. Marks were awarded for planning, healthy choices, correct use of equipment, hygiene, neatness of the working area and range of skills exhibited as well as the presentation and taste of each course.
Dishes presented ranged from Smoked Mackerel Pâté to Spinach and Paneer Rolls as starters, Hunter's Chicken to Cod and Chick Pea Curry as main courses and White Chocolate and Ginger Cheesecake to Plum Fool as desserts. All dishes were cooked from scratch with no packet sauce mixes used.
The judges, Rotarians Brian Whitham and John Kitching, putting on a few pounds despite their enthusiastic efforts, had a difficult task in deciding the winners. After much debate it was finally decided that two young people would be invited to represent the Club in the next round at the Printworks, Leeds on November 16th.Well done to Romany Branston of Guiseley School and Alfie Stead of Benton Park School, who will be hoping to gain a place in the District Final to be held at Betty's Cookery School in Harrogate in the New Year.
Special thanks go to Guiseley School for once again staging the event, the teachers for supporting their pupils and most importantly the enterprising young chefs for showcasing their impressive skills. The Aireborough Club now looks forward to its next event for young people, Youth Speaks, which will be held on 10 October at the Grove Methodist Church .
Picture shows from left to right Megan Richmond, Romany Branston, Ella Saunders and Alfie Stead.