Speaker George Finley - My Life, My Art
Tue 29th October 2019 at 19.00 - 21.00
George spoke of his life and Art Work.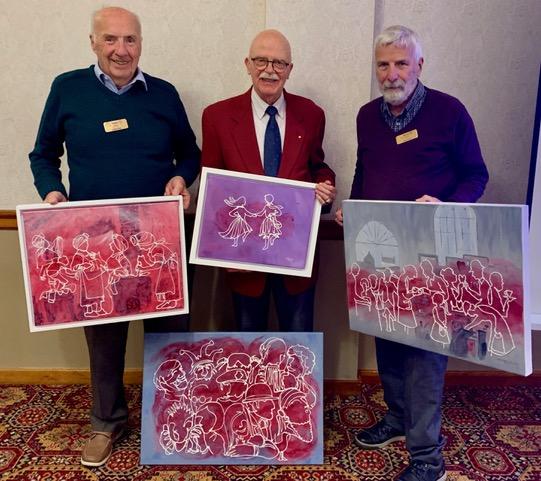 My Life, My Art
Member James Yule introducied speaker George Finley, a world-renowned artist who is also a member of the St Andrews Rotary Club.
George began his stellar career as a military artist during his time as a cadet at the US Westpoint military academy.
He went on to publish hundreds of caricature-style paintings, landscapes and portraits from his postings in Vietnam, Germany and other locations before retiring from active service in 1983. He now divides his time between St Andrews and Germany, where his children and grandchildren now reside.
A master of many different artistic styles and techniques George, from April to October 2018, devised a unique method of putting his works on card, board, canvas, murals on walls and friezes which occupy the entire length of four walls. He explained that all of his works encapsulate his lifelong theme and passion. That of inspiring people to talk, live and work together to make the world a better place. This new technique was shown to the audience by a comprehensive slide show and presentation of original paintings and prints. Briefly, it involves the use of George's own invention – a glue gun converted to stream paint and resin into a white line with which he then paints a complete picture of whatever size in one continuous motion.
The results are in many cases quite stunning, mostly showing people of all creeds and religions in outline obviously bonding together because of the white line connecting them all.
As a dedicated Rotarian George has travelled to many parts of the world to use his art – and often its financial rewards – to set up, fund and support projects in disadvantaged areas.
When asked if his self-invented glue gun artistic tool had a name, George referred to an article in a German newspaper which described it as "The Weapon for Peace".
Having done some due diligence prior to giving a vote of thanks President John revealed that George, although American born and bred, had a great grandfather who hailed from just down the road in Kilconquhar. George's work, he added, was an enormously worthwhile message about the need for peace and harmony in mankind.