Bexhill United Football Club - Graham Cox, Chairman
Wed 4th March 2020 at 19.00 - 21.00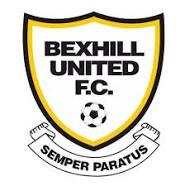 The club's guest speaker on 4th March was Graham Cox, Chairman and Treasurer of the Bexhill United Football Club, who received a donation on behalf of the club in December.
Graham gave a presentation about the history of the club which began its life at the Polegrove and was originally called Allen West before changing to Bexhill FC in 1926. The mock Tudor grandstand was opened in September 1929. Following the suspension of football during WWII the club reformed as Bexhill Town Athletic only soon to merge with Bexhill Amateur Athletic Club, a merger which lasted until 1960 when the two clubs split and they became Bexhill Town. In 2002 the clubs merged again becoming Bexhill United FC, a name that remained after another de-merger in 2005. The club, known as the "Bexhill Pirates" with the motto "Semper Paratus", always ready, are currently members of the Southern Combination Division One.
The club now has over 200 members of which 70-80% are juniors from 5 years upwards. The club have an under 23 development team which supports and feeds into the main team. Graham spoke of the strong community ties they have and the encouragement they give to the youth of the town by providing many varied activities, see earlier report. He also spoke of his particular role overseeing the club and ensuring that all the coaching staff has the necessary qualifications to successfully and safely run their squads, a very expensive necessity, The club has the ethos of "Football for all" and is run as a business albeit a not for profit organisation.