Dragon boat racing 2020
This year's dragon boat racing will take place on Saturday 4th July from 10:30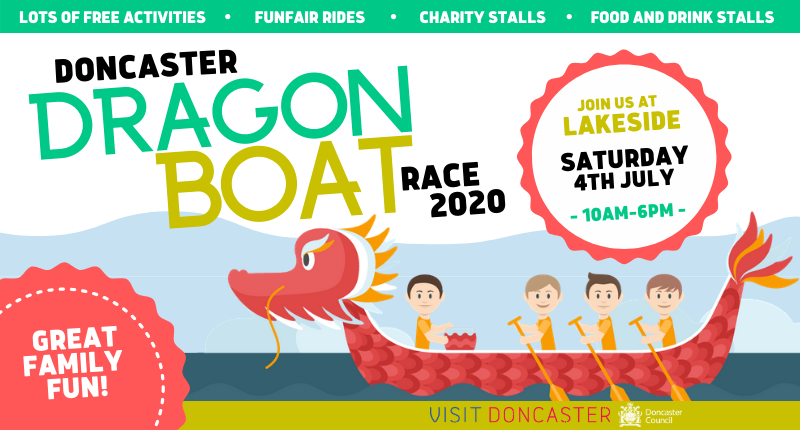 Visit Doncaster and the Rotary Club of Doncaster St George's (RCDSG) are pleased to announce that Dragon Boat Racing will take place at Doncaster Lakeside on Saturday 4 July 2020 between approximately 10.30 and 17.00 hrs. Authentic Chinese Dragon Boats will be used over a 200m course & around 30 teams of 10 paddlers & a drummer will crew each boat to determine the 2020 champions for male, female & overall.
The venue will again be at the Keepmoat Stadium end of the Lake with boats launched from a floating pontoon. There will be a children's fun fair and the usual stalls, attractions and refreshments and no entrance fee for spectators.

This is the 11th Anniversary of the event and a fun filled family day is promised for everyone. Each team is sponsored to raise money for a charity of their choice and for RCDSG. The event has raised a total of £129,200 for charitable causes since 2010 and your support is very much appreciated.
Please follow the link below to the entry form:
 

https://www.eventbrite.com/e/dragon-boat-challenge-2020-tickets-91163834483



For any further information please check out the visit Doncaster website:
http://www.visitdoncaster.com/whats-on/dragon-boat-race-2020.
Sponsorship and expression of interest forms are also attached below: