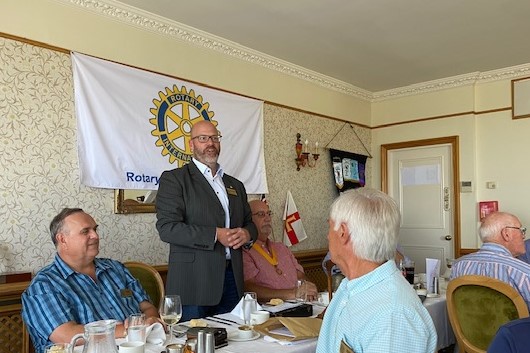 With a massive turnout of 46 members and guests and one Zoom member joining us online, we gave a big thanks to Nathan for directing us so well through a challenging year and we look forward to the David's year ahead.
As his final act as President Nathan presented the following achievement awards:
Alec Forty Memorial Trophy went to Andy Salisbury who has led the Clubs committee that organises the Tree of Joy and Christmas Parcels for many years
Paul Harris Fellow Awards went to Simon Milsted, Brian Acton and Jocelyn Dorey for continued exceptional Rotary service over many years. With Jocelyn the first non-Rotarian to receive a Paul Harris Fellow from the Club.
Rotary Hero Awards went to Brian Acton, Chris Marquis, Doug Johnstone, Jannine Birtwistle, John Moses, Mike Le Conte, Nigel Dorey, Paul Birtwistle, Paul Steele and Phil Ball for the support they have given the Club and President in the last Rotary year.
President Nathan handed over the Chain of office to Dave and wished him luck for his tenure. John Moses became President Elect and Brain Acton became President Nominee.
The Club is obviously looking forward to the year ahead.
Mike Le Conte