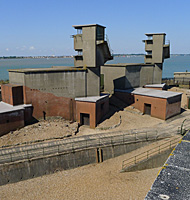 Our Speaker this week was Gerry Dunlavey from Felixstowe Club. Gerry gave us a first class interesting talk about Languard Fort, Felixstowe where he volunteers.
He gave us details of its history, from1543 when Henry V111 had it built to guard rivers. It was of great importance during the 2nd Anglo-Dutch war in 1665, when there was the Battle of Lowestoft. Gerry told us its history right up until the World Wars.
In 1999 English Heritage took over the fort. We hope to be able to visit the fort once we get back to normal.