HADDENHAM ROTARY INTERNATIONAL PROJECTS
Updated March 2020
PROJECTS IN TANZANIA
1. Chicken House, Njiapanda School for the Deaf, Moshi, Tanzania
This is finally complete. The chickens are thriving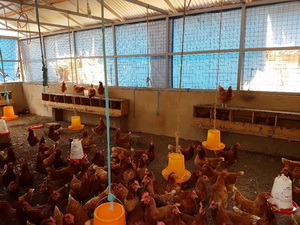 and the Rotary sign has been erected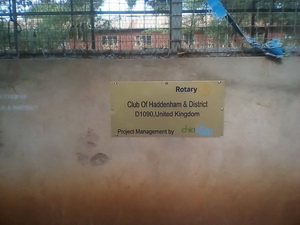 2. Borehole at Njiapanda School for the Deaf, Moshi, Tanzania
Rotary and the Oxford Deaf Children's Society sign has been installed on the small building erected to make the borehole equipment safe
Tests have confirmed the water from the borehole is of good purity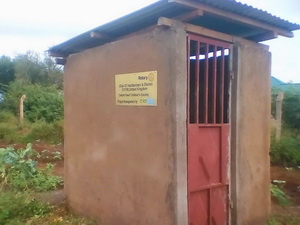 3. Toilets at Kisangara School, Mwanga, Tanzania
This project which was funded by a Rotary Grant, is now fully operational, hygiene training has been completed, and hopefully all children are now regularly washing their hands
This project was ably managed by Moshi Rotary, Mwanga, Tanzania
Management Team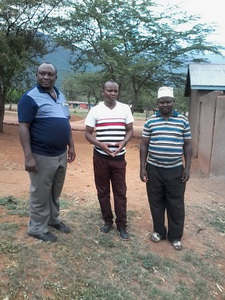 Laying Out The Foundations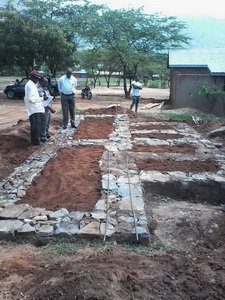 Digging The Pit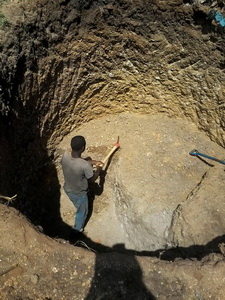 4. Blood Donation and Transfusion Unit at Kisangara Health Centre, Mwanga, Tanzania
Haddenham Rotary supplied equipment to enable blood donations to be made which will improve healthcare and be an important benefit the whole community
Total Budget ZST 9,010,000 equivalent to about £3144
This project was again ably managed by Moshi Rotary, who have submitted the final report
Kisangara Health Centre Staff receiving the blood transfusion equipment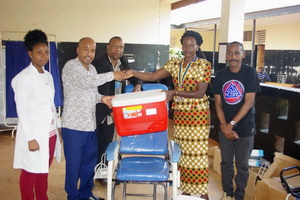 Moshi Rotary President Lucy, donating blood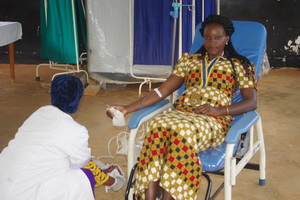 Haddenham Rotary also arranged to plant 100 trees which will eventually help improve the environment for the community
Moshi Rotary President Lucy planting the first tree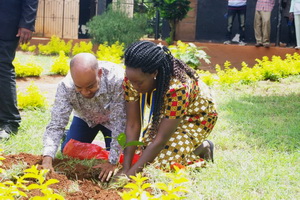 PROJECTS IN UGANDA
Two projects supported by Rotary Foundation Grants to install 28 water storage tanks 20,000 litres each in schools in Kamuli and Jinja, Uganda, are nearly complete
Construction is complete and the stored water is being tested by the local water authorities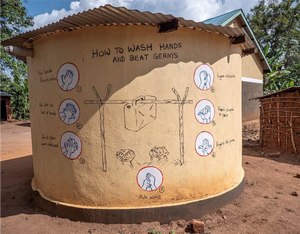 All of the hygiene training and use of the hand washing stations, has been completed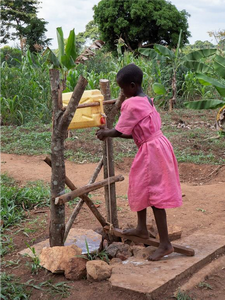 Photos by local Rotarians
There may be some funds remaining at the end of this project and it is hoped – but no means certain – that The Rotary Foundation will authorise its use to benefit the local schools
Let's hope they can combat the virus!
NEW PROJECTS
Haddehham Rotary are working with Thiruvaiyaru Rotary, Tamil Nadu, India, to prepare a Rotary Foundation Grant application with an approximate value £35,000, to supply, fit and subsequently service and manufacture, prosthetic limbs for those unable to provide for themselves
Ken Elphick
Haddenham Rotary International Committee Chair
March 2020
Find out more about Haddenham Rotary

If you enjoy having fun while helping others less fortunate than yourself,
we invite you to contact us to find out more
Use your business and social skills, and professional resources
to benefit people less fortunate than yourself.
Forge new friendships, exchange ideas and help us deliver humanitarian aid
with lasting benefit to local, national and international communities.
Your business life can benefit too.
Ask about helping with our events or to join one of our meetings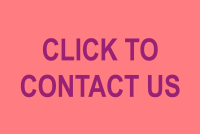 The following Related Pages give more detail about our International projects