COVID-19 Vaccinations
Knutsford Rotarians are master-minding the car park marshalling for COVID-17 Vaccinations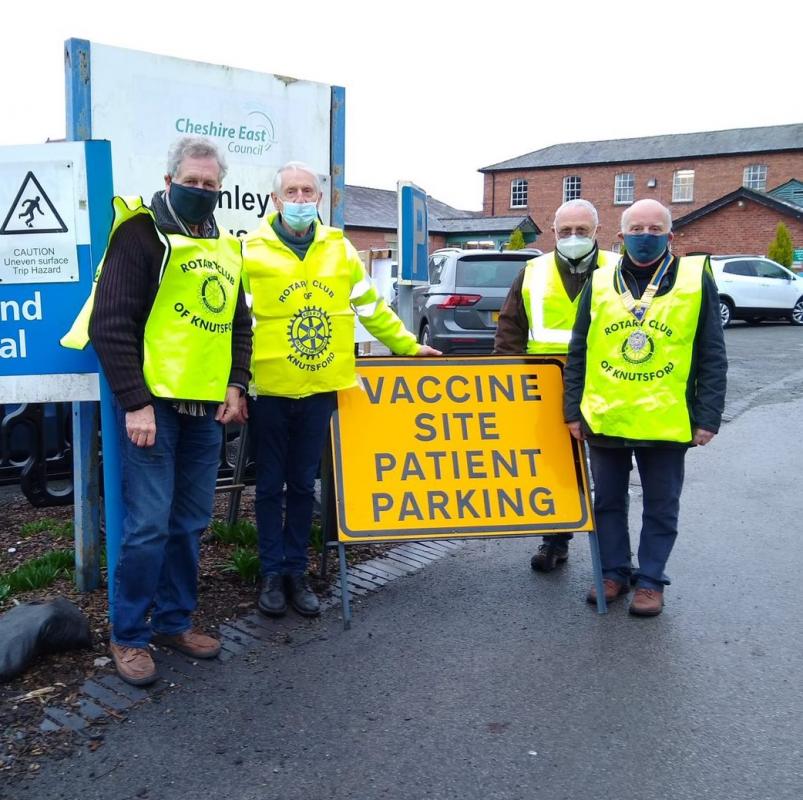 COVID-19 vaccinations in Knutsford are being administered by the Knutsford Medical Partnership at the Knutsford and District Community Hospital, in Bexton Road, which was chosen due to the need to vaccinate indoors.
With many of the residents invited to receive their vaccine beng elderly and arriving by car, traffic management of the car park was important to ensure safety and that there were no delays so that residents were able to receive their jabs at the appointed time. Knutsford Rotary Club developed a plan for managing the traffic of cars and pedestrians, provided signage and then volunteers for every shift. The Club has been extremely well supported by Knutsford Hosts, We Are Knutsford and other groups whose members have volunteered to be marshalls in large numbers. Local company also Tatton Fencing supplied stakes sign for signage free of charge.
Rick Dallimore, president of the Knutsford Rotary Club, said "This is an excellent example of the Knutsford community working together to help the NHS to rapidly complete the most important and extensive immunisation programme the country has undertaken.
We sincerely thank all those who have, and will, take part. We could not do it without you.
We are happy to play a part in bringing back the days when life may return to normality. Thank you everyone."
So far the Club has been 'on duty' around 10 days at the Hospital but knows that there there will be many more days to come as new supplies of vaccine are received.