ROTARY CLUB OF INVERURIE
Celebrating World Rotary Day 2021
The first Rotary meeting was held in Chicago on 23rd February 1905 while our own club was formed in 1953 and we are proud to have been supporting local and international communities since then.
Our first action was to post a short video on our Facebook page the week before World Rotary Day to publicise the occasion. The video clip showed a few examples of how our activities fit in with the Themes and Areas of Focus established by Rotary Great Britain and Ireland both locally and internationally. We chose to illustrate "Our Impact Starts with Our Members", "Supporting Education", "Saving Mothers and Children", and "Fighting Disease". It also gave us a chance to promote membership. You can see the video by clicking on the image below.
Our second phase was to have a "Miss a Meal for Money Challenge" running the week of World Rotary Day to highlight and support those in our own community who may need our help. The campaign involves Rotarians and the public missing a meal at some point between Monday 22nd and Friday 26th February and donating the money saved to the campaign.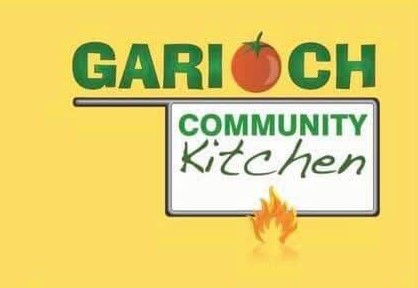 All funds raised will benefit Garioch Community Kitchen, who are shortly launching a doorstep chat with a fine piece to address social isolation and promote wellbeing within our community.
Our next effort was to have a week-long display in a shop window in Inverurie town centre. The space was provided by Past President George Ross via his firm J G Ross (Bakers) Limited. Rotarians decorated the window with pop-up banners, photos of our Founding Members, our Glee Club entertainment group and an acrobatic mannequin. The window is bathed in flashing purple lights, a colour that is recognised globally to represent Rotary's campaign to End Polio Now (one of the Areas of Focus in our video clip. Video clips of the shop front were posted on the Club's Facebook page on the eve of World Rotary Day and on World Rotary day itself when the Rota Kids mannequin performed his acrobatics.
Our final phase was to light up our home base, The Kintore Arms, again in purple. This reminds everybody of Rotary's End Polio Now campaign and emphasises how keen the Club is to get back into the hotel in a state of some normality once restrictions are eased. The fantastic light show was provided and set up by Mark Copland of Event FX Scotland who was one of the Club's RYLA candidates in 1987 and is the son of Past President Jim Copland. We were ably supported by Andy Woodcock, the KA's manager who braved the strong winds of 23rd February to mount our Club banner above the hotel's front door.