Club Centenary
The Rotary Club of Guernsey is to lead a project to rebuild the Japanese Fishing Pavilion at Saumarez Park to launch its forthcoming centenary celebrations.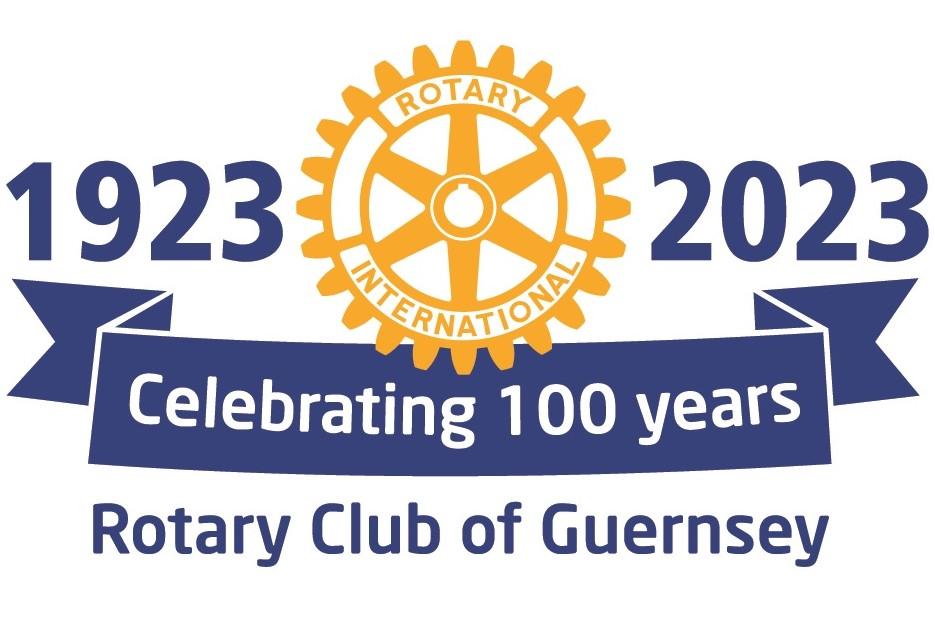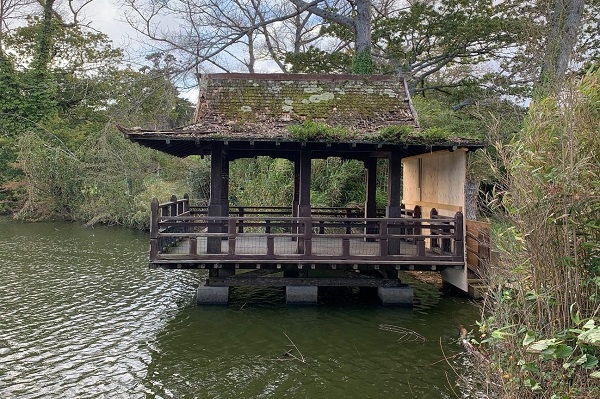 The Rotary Club of Guernsey will be celebrating its centenary in 2023 and will be leading a project to restore the Japanese Fishing Pavilion at Saumarez Park. This will be a fitting and early launch to our centenary celebrations by providing a lasting and sustainable legacy that for the first time ever will be easily accessible to all in the community that we serve.

The Pavilion that was built in 1935 is well known to many generations within our community who have enjoyed using this as a platform to view the pond, its birdlife and the surrounding parkland. It was restored in 1989 however over the last few years its condition has deteriorated and it was considered necessary to close it to the public in 2019. We want to bring the Pavilion back to use and to ensure that it becomes easily accessible to all so that it can be enjoyed by the community for many years to come.
The project is being partially funded by a very generous donation from The John Ramplin Charity Trust who have also supported a number of projects within Saumarez Park and are keen to see the Pavilion restored to its former glory.
David Woodland, Chairman of the John Ramplin Charity Trust "thanks The Rotary Club of Guernsey for taking on the project of restoring the Fishing Pavilion and is pleased on behalf of the Trust to support this venture which will be enjoyed by the whole Guernsey community."
The Rotary Foundation has also provided grant support for this community project following a successful application to our Rotary district funding committee.
Should members of the public want to contribute to this project there is a Giving.gg link on the club's website.
Rotary will be working in partnership with Pauls Joinery as the main contractor who are delighted to provide their generous support and expertise for this community- based project.
Paul Vidamour of Pauls Joinery said "After trading in the Island for over 35 years we felt this is the perfect time to give something back to the community and what better way for us than working on a building so loved by islanders and involving 95% joinery".
President of Environment and Infrastructure, Deputy Lindsay De Sausmarez said "I am absolutely delighted that this project can finally move ahead. It is an excellent example of the public, private and third party sectors working together and it is fantastic that another generation of islanders and visitors will once again be able to enjoy this much loved Pavilion".
David Parish, President of The Rotary Club of Guernsey said "I am sure that many islanders will agree that it is very disappointing to see the current condition of the Pavilion. The Rotary Club of Guernsey are delighted to launch this project to restore this iconic structure for the benefit of our local community and to adjust the ground levels at the entrance to the site to provide step free access so that it may provide enjoyment to all for many years to come. We are also planning to improve the biodiversity of this development by creating a roosting space for bats.
"This project not only has strong synergies with the Japanese heritage of the park, but also with Rotary International Peace and Environmental objectives. To that end we also hope to plant a symbolic "Peace Tree" which is being nurtured locally from the seedlings of a tree that survived the bombings of Hiroshima in 1945. This will support the long term peace and tranquillity of the site and support future Rotary events."
In addition to our thanks to the John Ramplin Charity Trust and Pauls Joinery, we would also like to thank the other contractors who are generously supporting this project Sarnian Roofing – Bob Froome & Son – Norman Piette – Fusion Engineering – Scaffolding Services -Petersfield Plant Centre and PF & A Architects for their assistance.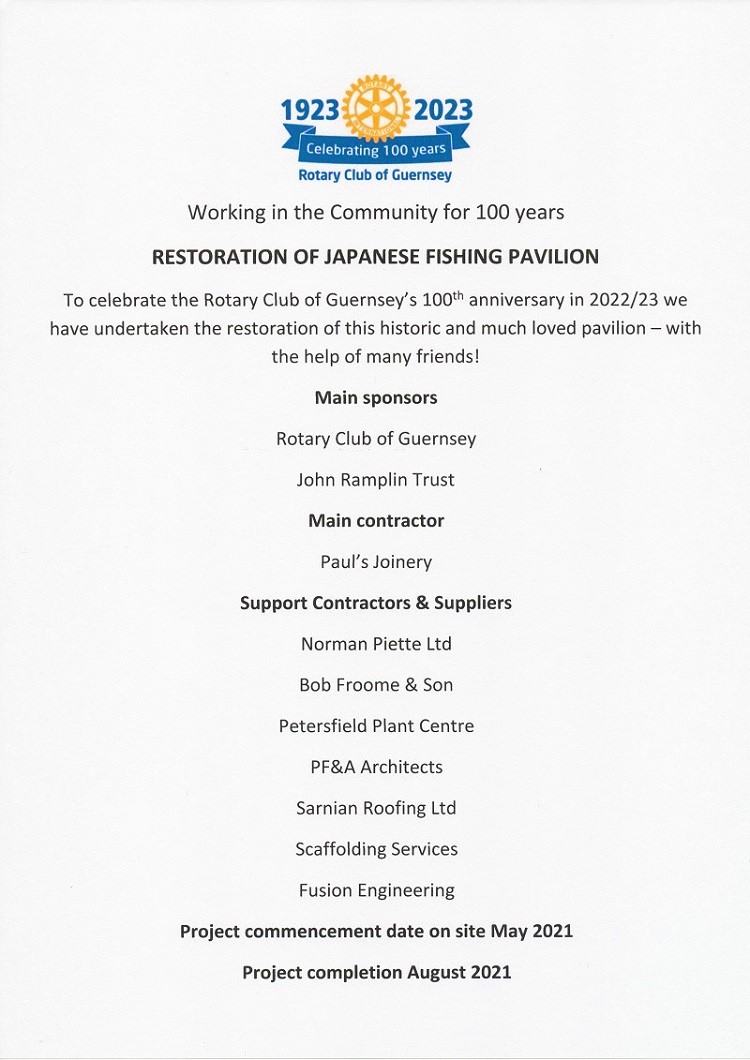 We owe huge gratitude to all of our supporters and partners who are providing financial contributions and their practical expertise to ensure that this important part of the park and Island's heritage is restored for the long term future.
However a project of this significance comes at a considerable cost and in addition to the funding we have already secured we will be delighted to receive any financial contributions from those in the community who wish to join us in our desire to rebuild the Pavilion that holds so many special memories for us all.
Should you wish to make a donation please click on the Giving.gg logo below or contact Brian Acton.