Introduction
Professor Laura McAllister, a former pupil of Ysgol Glyndwr and Bryntirion Comprehensive School, is now Professor of Public Policy and the Governance of Wales at Cardiff University's Wales Governance Centre. She is a member of the Learned Society of Wales and a Fellow of the Royal Society of the Arts.
Laura has also achieved sporting excellence, having played football 24 times for and captained the Wales national team. Laura has held a number of sports governance positions, including Chair of Sports Wales between 2010 and 2016, and is currently a Director of the Football Association of Wales Trust.
Also a highly respected journalist, writer and broadcaster, Laura was appointed a CBE in 2016. Laura's mother Ann was the first female President of Rotary Bridgend in 2007 - 2008 and we are proud that Laura in a honorary member of our club.
Laura gave a facinating talk about key events over the last 6 months that involved her two favourite subjects - football and politics.
Candidate for FIFA Council
Laura stood as the "football candidate" for the UEFA representative to the FIFA Council, the ultimate decision making body of world football. Laura contrested the election against a candidate from Italy, one of football's great powers, though their candidate did not have experience in football!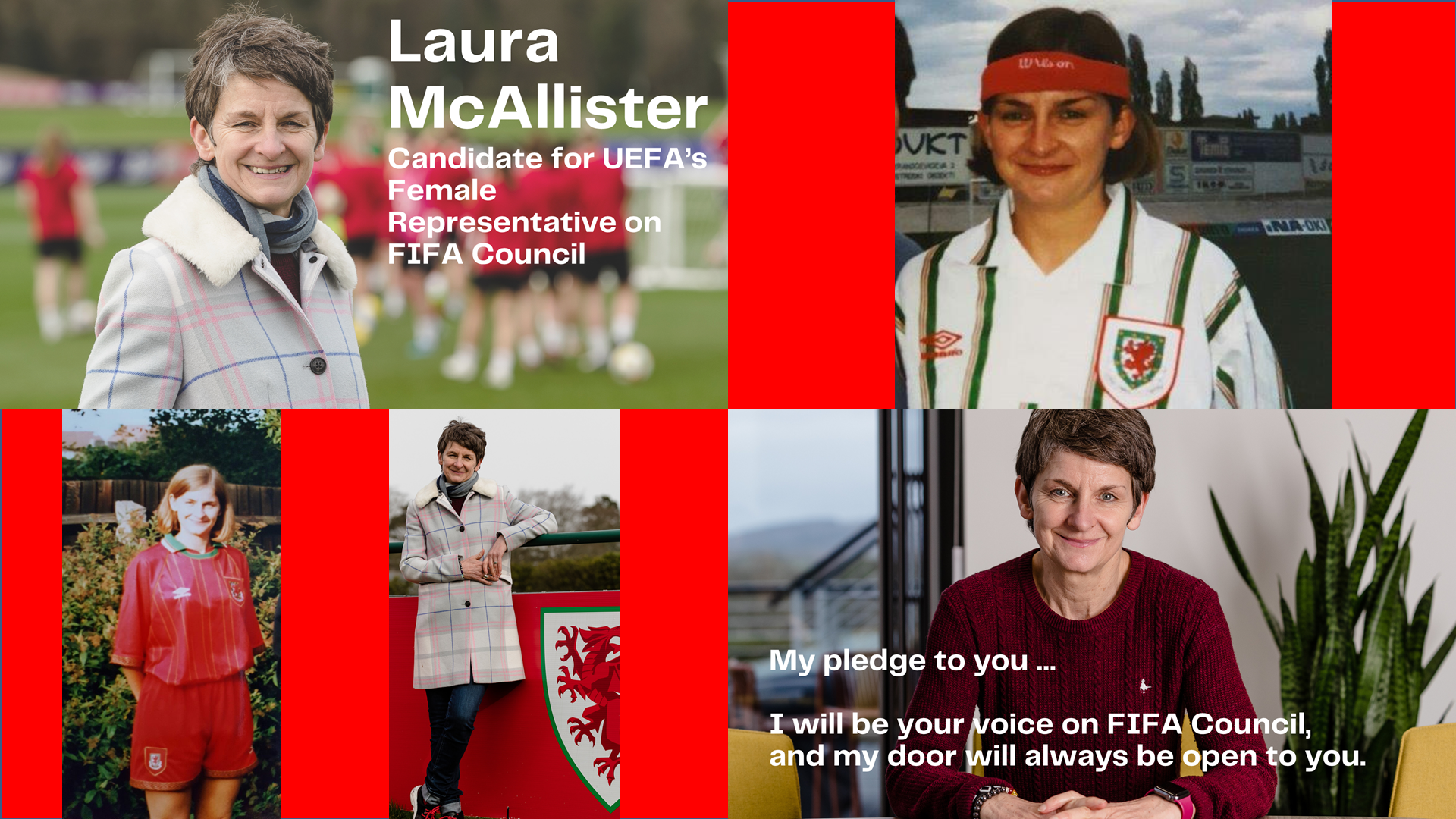 With great support from bodies such as Sport Wales and The Football Association of Wales, Laura fought a superb election, winning 22 of the 54 votes at the convention in Montreux, a tremendous result for a firt-time candidate. Laura feels football governance still has some way to go if it is to become a truly diverse, equal and democratic organisation.
More about Laura's candidacy can be found by clicking the link belkow
Sport Governance | Www.lauramcallisterforfootball.com
National Elections to the Welsh Government
Laura was a studio analyst and commentator for BBC Wales on the Friday of the election results. Because of Covid this year's election was very different, no face-to-face meetings with politicians and with the election very much focussed on the handling of the pandemic and trust in the government's competence.
Laura commented that it was an unusual result in that all three major parties, Labour, the Conservatives and Plaid Cymru, all gained seats.
Laura concluded with a comment on the importance of being able to give something back to the community, a message that is close to the hearts of all in Rotary Bridgend. Thanks to Laura for such a wonderful insight into her life.