What was the Problem?
Danetre Daventry Rotary Club organises and runs the annual Santa Christmas collection in the Daventry district. This much-loved tradition has been running for 56 years and is very much part of Christmas in the district for many people.
Using two sleighs on trailers we collect every night, except Sundays, for the 3 weeks before Christmas with the help of local charity volunteers. This represents in excess of 500 collecting hours. All funds raised, nett of costs, are kept and distributed exclusively to local charities, youth and senior organisations in the Daventry area.
| | |
| --- | --- |
| | A Sleigh on the 60 year old Trailer |
So this was the Problem!
The condition of the Sleighs and Trailers have forced us to the conclusion there is no alternative but to run a project this summer to renovate the two trailers and sleighs we use – one trailer is over 60 years old and needs replacing. The other trailer and both the sleighs need to be refurbished. This refurbishment will allow us to continue running the collection, the last refurbishment was 12+ years ago.
The replacement trailer, being more modern, will be much safer for the collectors, easier to use particularly for the driver when reversing and the community will find it easier to lift their young children on & off for the photos with Santa.
Now we are pleased to announce a SOLUTION!!!!
And the solution involves Cummins.

Daventry, as we all know, is a small town and as if by magic Cummins got to hear of our project and decided they could do something about it.

So the project got off the ground on Sunday 16th May, with 219 days to go until Christmas, the Sleighs were delivered to Cummins car park and the Project is under the control of Rory Jordon of Cummins.
In the words of Rory from Cummins:
"I didn't realise what difference a coat of paint would make "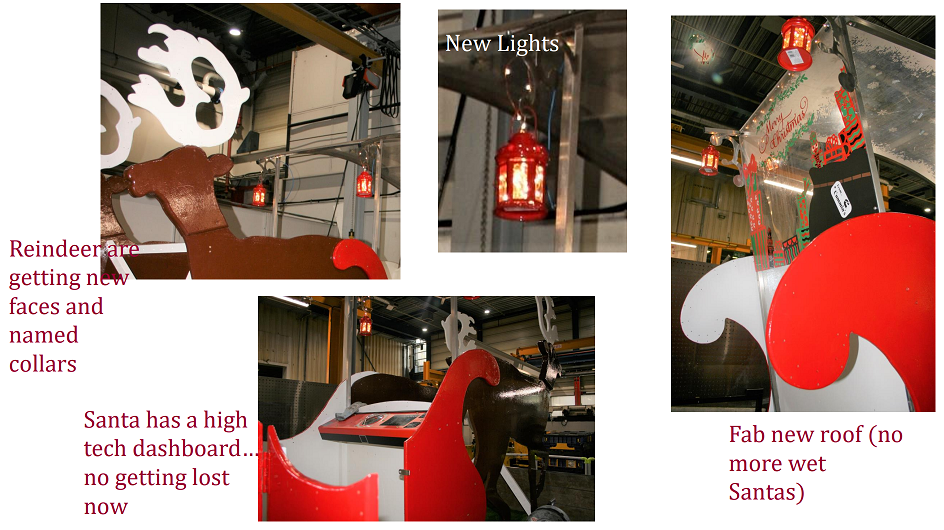 These are the latest photos we have but now Rotary have been banned from visiting until the finishing touches have been completed.